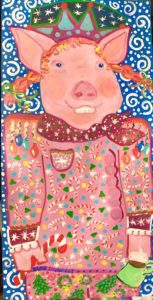 Beaufort's holiday season promises to be a little nuttier this year, thanks to a fun new public art project sponsored by the Beaufort Art Association.
"It's a Nutty Christmas" will distribute 50-75 full-sized wooden nutcrackers around town, each the unique creation of a local artist. The project is being spearheaded by Danie Connolly, who recently moved to Beaufort from Kennebunkport, Maine, where a similar project had great success, raising lots of money for local charities.
"Each artist will be supplied with a 2'x6' or 2'x4' wooden board to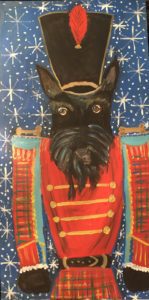 paint their version of a Nutcracker," says Conolly. "Then local businesses will 'rent' the Nutcrackers for $125 to display outside their storefronts for two weeks, with all the money going to charity."
After that, the artists are free to sell their Nutcracker art at set prices: $500 for 6 footers, $400 for 4 footers.
Conolly created the project in Kennebunkport during the pandemic.
"Lots of the businesses were closed," she says. "No one knew who was open, and people were hesitant to be around others in enclosed areas."

"Putting the Nutcrackers in front of businesses and showing that they were alive and well was a key element in helping with economic recuperating. The benefit of having a family drive around to take pictures with their favorite Nutcracker without germs was very popular in Kennebunkport. We sold so many nutcrackers that people who bought them continue to put them out and have a mini outside exhibit."
The Nutcrackers will be on display throughout

Beaufort from November 23 – December 11, during which time there will be scavenger hunts, picture-taking contests, and a competition for "best smile on a Nutcracker" judged by local dentists! All proceeds from Nutcracker rentals will go to benefit the BAA educational art fund for children.
For more information about "It's a Nutty Christmas," or to inquire about renting a Nutcracker, contact Danie Conolly at 207-985-8888 or Danie.connolly@yahoo.com
The painted nutcrackers featured in this article were part of "It's a Nutty Christmas" in Kennebunkport, Maine, in 202o.