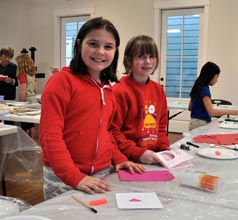 The Society of Bluffton Artists presents its first ever "K-5 Children's ART EXPO," featuring the art of Bluffton area children in kindergarten through 5th grade.
Designed to encourage and promote the artistic talent of the children in our community, this show will be on display from March 29 through April 12. Each school's art instructors will choose 2 pieces of art from each grade that represents the students' best work. The show will be hung in SOBA's beautiful new Center for Creative Arts building at 8 Church Street in downtown Bluffton, adjacent to the SOBA Gallery.
The children, their families and the public are invited to a reception on Saturday March 29 from 1 – 3 pm. Please join us for refreshments, to meet these burgeoning artists, and to enjoy their wonderful work!
Please contact Mary Ann Putzier for more information 843-705-5443 or maputz1@centurytel.com.