"Nature's Blessings," an exhibit by St. Helena artist Kathy Crowther, is currently hanging in the USCB Performing Arts Gallery.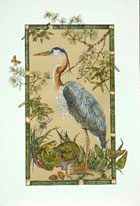 Kathy Crowther's creative formula combines her love for nature – and its exacting details – with a fascination for geometric designs. Her work is fluid – leading the observer from one portion of the image to the next. Occasionally she will paint hidden objects as well as, which gives the observer additional pleasure while viewing the work.
Crowther's art education started at the age of ten with classes at the Cleveland Art Museum. Formal training continued with high school, West Virginia University, Oglebay Institute, and the Cleveland Institute for Art.
While living on a farm in West Virgina her art was influenced by "Andrew Wyeth, an American contemporary realist painter, igniting Crowther's passion to capture nature's emotion with paper and paint. Once, I received a request for a painting of nature, and as I painted, I became aware of my surroundings and the amazing details of color, shape, and texture that encircles us all. Today, it is nature's bounty and all it's wonders that are the soul of my work.
"Nature's Blessings" will be open to the public through December 18. The exhibit is free and open to the public from 10 AM – 5 PM Monday – Friday. For addition information or direction to the USC -B Art Gallery contact BPA box office at (843) 521-4145 or visit beaufortscperformingarts.com