As October sprints toward a finish with its usual flourish, the Beaufort Art Association Gallery, located at 1001 Bay Street in downtown Beaufort, is offering a number of colorful events to suit a variety of tastes. The annual "Holiday Boutique" is coming in time to join the final week of "Hetty's World"—an exhibition of paintings by featured artist Hetty Nijman. BAA members have created unique, artful gifts specifically for the boutique and will offer them for sale beginning October 24.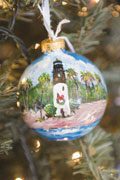 Holiday Boutique items have been created in two themes this year: "traditional holiday" in royal or jewel tones including purple, burgundy, dark green, navy and gold; and "beach" in bright cabana colors encompassing scarlet, royal blue, yellow, green, pink and silver. Traditional items have been created in motifs such as poinsettia, holly, star and angel. The beach-themed motifs include shells, fish, palm trees, nautical designs such as boats and anchors, lighthouses and umbrellas, sun, water, sand and flip-flops. The boutique's organizers had planned to open the event earlier this year to treat gallery-goers to an array of holiday gifts alongside Hetty Nijman's works in the featured artist room and the works of the 90 member artists throughout the gallery. Two big events led the organizers to delay the opening of the boutique.
The first event will take place on the evening of Friday, October 26 when the George Elliott House, which is home to the BAA, will be included in the Historic Beaufort Foundation's Fall Festival of Houses and Gardens weekend. Friday's Candlelight Walking Tour (for tickets and information visit www.historic-beaufort.org) offers an opportunity to explore homes of historic or architectural significance that are normally not open to the public. The Elliott House enjoys double significance both for its antebellum style and for its role as a military hospital during the Civil War. HBF docents will be on the premises to educate, answer questions and point out the notes and signatures that have been preserved on both the exterior and interior walls of the building.
The second event will occur on Saturday, October 27. The BAA Gallery is included in the Guild of Beaufort Galleries Art Walk, an evening in which the community's 14 member galleries, located through downtown Beaufort, stage another open house. For the BAA, this event will mark both a beginning and end. Hetty Nijman's "Hetty's World" closes after Art Walk, but the members' "Holiday Boutique" will continue until December 22. The gallery will be open for Art Walk from 5:30 to 7:30 p.m. Refreshments will be offered, and artists will be on hand to meet and greet visitors. Early shoppers will be treated to the first display of boutique items: ornaments, miniature paintings, sculpture, cards, jewelry, scarves, bowls and more. This holiday sneak peek will be followed by an official opening reception with a complete display of gifts when, one week later on Friday, November 2, the boutique shares the spotlight with the BAA's special exhibit, "Eleven African American Artists." Details of the exhibit, featuring work by A.I. Davis, James Denmark, Diane Britton-Dunham, Cassandra Gillens, Hank D. Herring, Claudette Humphrey, Marie Lewis, Lil Simpson, James ("The Saint") St. Clair, Jery B. Taylor and Richard D. White will appear in the next issue of Lowcountry Weekly.
Reminder: The BAA's 17th Annual Beaufort Memorial Hospital Foundation Benefit Exhibit and Sale opened last Friday night at the hospital's location at 955 Ribaut Road, Beaufort. Since brisk sales began before all the art was hung on the walls, the public is encouraged not to miss this event that raises monies for the Foundation's Betty Mazarin Pharmaceutical Fund. The BAA receives no money from sales, and artists donate a minimum of 40 percent. The exhibit will be on display through December 9 at 955 Ribaut Road, Beaufort in the first floor hallways adjacent to the registration lobby. As works are sold artists replace them with new pieces—the public is encouraged to view the exhibit on more than one occasion.
The BAA Gallery is a 501(c)3 non profit organization and is open Monday to Saturday from 10:00 a.m. to 5:00 p.m. Admission is free. For further information about any of the above events call 843-379-2222.