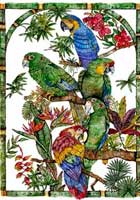 Come enjoy the Guild of Beaufort Galleries Valentine's Day Art Walk on Monday, Febuary 14th, from 4 pm til 8 pm. Historic Beaufort has been voted one of the 100 best Art towns in America and 12th best small town art destination in the country.  Each of the twelve galleries in beautiful downtown Beaufort will display wonderful works of art for everyone to enjoy.
The Beaufort Art Association Gallery will showcase former career pilot Mac Rogers. Retired after 25 years with Delta Air Lines he studied art with Ben Shute, founder of the Atlanta College of Art and Tony Crouch- fellow Delta pilot and watercolor artist, author and teacher.  His travels provided ample opportunities for sketching and painting, after retirement he became an active member of the BAA and has painted full time ever since.
Nancy Ricker Rhett will feature "Beaufort Bridges" at the Rhett Gallery from a new series of landscapes from our area done in watercolors, pastels and acrylics.
Bay Street Gallery will be featuring the work of  Mary Segars and Bill Mead and other original works by the gallery's artists. Come meet Bill and Mary and see Bay Street's superb sweetgrass basket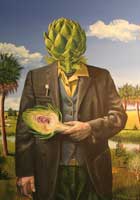 collection.
At Indigo Gallery you will find Gloria Dalvini's latest plein air paintings.  These paintings capture the essence and character of Beaufort as well as the surrounding areas. Though Gloria often paints in Europe she has been living and painting in the Lowcountry for the past 19 years.
The Four Winds Collection will feature "The Valentine Tree", by Benton Lutz. This is a series of acrylic paintings on canvas in honor of a lost but magical and mysterious discovery. Angel de Villafane, a Spanish governor of Florida when it still included what is now the coast of South Carolina, was sent from Veracr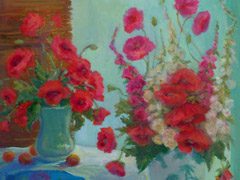 uz, Mexico by the king of Spain in 1561 to find a suitable location for a settlement. Upon arriving on Sanat Elena Island he went for a walk alone and discovered a palmetto tree covered in Valentines. They were growing on the tree as if they were fruit. Amazed, he ran back to his troops to tell them. But when they returned, Villafane's Valentine tree was nowhere to be found.  By paying tribute to this obscure tree, it is the artist's hope that his work will spark an interest in finally finding Villafane's Valentine Tree or at the very least finding the mysterious and magical with the one you love.
Also at Four Winds will be new work by Kathy Crowther. Collectors and admirers of the artist's work are drawn by her use of detailed ink pen highlighting a vivid palette created by water color and gouache. Her subject matter is often richly hued birds, animals and marine life of the Lowcountry.
The I. Pinckney Simons Gallery presents the fine drawings of  Southern figures by renowned artist Bill Dula.  A skilled illustrator born in New York City, he studied at the Art Students League and accomplished many assignments with major publishers such as Doubleday, Dodd, Bantam, and Dell.  Dula worked for many years under contract for NBC News executing hundreds of portraits for the Huntley- Brinkley News Shows.  He is also known for his courtroom sketches meticulously drawn in a timely fashion.  Through the Society of Illustrators, Bill became involved with the Air Force Art Program and is represented in their permanent Museum Air Force Art Collection.  Please join us on this special Valentine evening to view this fine collection and meet Bill Dula.
ArtLofts will be enjoying their first Art Walk this Valentine's Day.  Artlofts is a working studio/gallery that house the studios of Laura Bricker, Lana Hefner, Pam Hagan, Shelly Kohli, Mary Grayson Segars and Susan Stone. Come check out all the different works by these ladies as well as their classroom where they offer lessons in several different mediums.
Below are the galleries represented by the guild along with their locations.
Charles Street Gallery – 914 Charles St.
LyBensons Gallery and Studio – 211 Charles St.
Beaufort Art association Gallery – 1001 Bay St.
Rhett Gallery – 901 Bay St.
Four Winds Collection – 216 West St.
The Craftseller – 818 Bay St.
Indigo Gallery – 809 Bay St.
The Gallery – 802 Bay St.
Bay Street Gallery – 719 Bay St.
I. Pinckney Simons Gallery – 711 Bay St.
USCB Center for the  Arts – 801 Carteret St.
ArtLofts – 208b Carteret St.
The Guild of Beaufort Galleries invites you to come experience the wonderful variety of artistic expression to be found in our beautiful and historic town. What a great way to celebrate Valentine's Day!