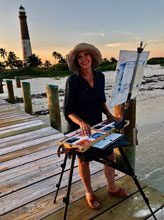 Beth and Hailey Williams chronicle their residency in the Dry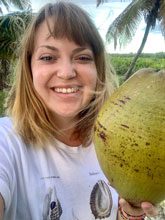 Tortugas National Park.

By Hailey Williams
Picture this: you wake up to the sound of waves crashing and coconut palm fronds crinkling. Each morning you are greeted by a court of seagulls preening on the dock. You swim alongside bulbous jellyfish and shining barracudas while you snorkel Little Africa Reef, and at night you are ensconced by stars. You're on a remote island off the grid, tasked only with the guardianship of nature and creating art. You are given one hand-held radio and a binder detailing the solar power and RO systems, and left to your own devices. 
This is exactly what my mother and I were chosen to do, out of 400 candidates, for the Dry Tortugas National Park Artist Residency program last September.
You'll recognize Beth Williams' fine art from Beaufort's own Atelier on Bay, where you will find her studio chock-full of award-winning soft pastel paintings of the Lowcountry's marine and marsh landscapes. You'll occasionally spot me in a chair, writing in the corner while she paints.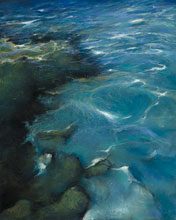 Beth Williams has studied and taught art education for over thirty years, but it wasn't until ten years ago that she began a full-time career as an artist. In a decade she has grown tremendously; taking workshops all over the country and participating in countless shows, exhibitions, and contests. In 2017, unprecedentedly early into her painting career, she was awarded Signature Member status in the Pastel Society of America. 
I have studied writing through workshop and instruction for eight years, first at Charleston's School of The Arts and then at Johns Hopkins University. Just as I began my final semester at JHU, my mother found a call for two Artists in Residency for the Dry Tortugas. When she asked me to apply with her, I said yes instantly. We proposed a pairing of paintings and poetry inspired by one month living and working on Loggerhead Key. 
When I told my friends that I would be taking a gig with my mother as joint Artists in Residence on an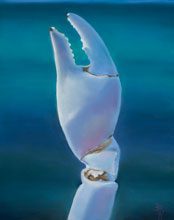 uninhabited island 70 miles off the coast of Florida, their first question was "don't you think you'll drive each other crazy?" My answer was decisively "no" and I'll tell you why. 
My mother and I have a rare relationship, because we have navigated the straits of grief together and survived. Nine years ago, my brother Aaron took his own life. Our family was wracked by grief, but we found a reprieve in nature and art. I turned to writing and she to painting. This is the reason my mother's paintings of the olive-blue South Carolina waves take on an added depth; we often look to the ocean when the world is too much with us, when we need a connection to those we've lost. My poetry, too, reflects on nature as a conduit for individual and collective healing. As the first mother-daughter team of artists selected by the National Parks Arts Foundation, we considered the residency an opportunity to reconnect with nature and each other.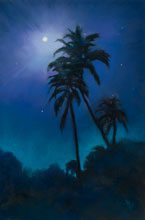 Our month on Loggerhead Key was simultaneously joyous and saddening. While there, my mother and I developed an abiding awe for the island and its harsh but ancient relationship with life in all forms. However, the abundant sea turtles and thriving reefs that have characterized these islands since the age of pirates are now facing a greater threat than ever before. We may never return because rising seas mean this tiny oasis may be entirely submerged in fifty years. All the more reason for artists and visitors to document and protect this remarkable marine world while we still have the chance. 
If you'd like to hear more about our misadventures (ask about Hurricane Dorian, or the rats!) or are curious about National Parks Artist Residencies, we have created a portfolio of paintings and poems detailing our daily fascinations and discoveries — the chronicle of our love affair with Loggerhead Key. 
Come to see the final product at our upcoming exhibition, Seeking Solace,located in the main gallery at Atelier on Bay, 203 West Street, through the month of April. Opening night is April 3rd, with a poetry reading at 5pm and reception at 6pm. Entry is free, and all are welcome! 
Reunion
By Hailey Williams
I pull from tangled
island ventricles

pale claws nearly dust

to stash in my breast pocket.

Clittering china, I picture

a family of crab ghosts converging

over my pulse, ready to tuck

into their first bloody meal after death; 

eye stalks sway in synchrony 

raised in prayer to Sea, or

perhaps his brother, Sky.

Spectres Crustacea 

mingling in my pocket,

I scoop out my heart

and permit you to feast.