The Mather School and the Beaufort Arts Council has a new collection of art to share. The works in the exhibit and the way they are displayed may be a little unusual to some.
The works in this exhibit were created by award winning local artist and retired art teacher Brenda Singleton. This collection took over 30 years to generate. While away from home to attend college, Brenda began to paint portraits of the people she met there as masks with empty eyes. They are presented here to call attention to the development of the new works she created in the last two years. The new works came out of a series called "Breathe" which was created as a response to a lot of changes in the artist's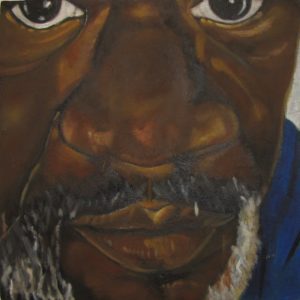 life, changes in her small community and changes in the world. They are masked faces or partial portraits.
This unusual subject is presented in a familiar manner. When you enter the exhibit space you may get a sensation of home. You may feel as though you are returning home or visiting the home of a family friend. Either way you will feel welcome.
There is even a welcome mat at the entryway. Inside music from a local radio station helps to set the mood.
As in many homes the walls of this display space are covered with portraits. But
these aren't just any portraits. They are painted and drawn as masks, masked faces or partial portraits (close ups of a part of the face). And just like in many homes, visitors might recognize some of the people hanging there. The artist has compiled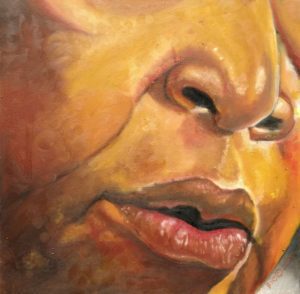 portraits (partial portraits) of old friends, new friends, a few self-portraits and a self-proclaimed Gullah Geechee Alpha male or two. There are portraits (partial portraits) of civil rights activist John Lewis, historian Joseph McGill, politician Stacey Abrams, radio and television personality Charlamagne tha God, and actor Romany Malco. But be prepared to search for them, as like in many homes these portraits are not labeled.
Make plans to go by to view this impressive collection in this wonderous display. The exhibit is free and open to the public to view Wednesdays, Thursdays, and Fridays from 11am – 4pm. The exhibit will hang for the remainder of the year. The display is housed at 921 Ribaut Road, Beaufort, SC 29902 on theTCL Campus in Building 1.
For more information call the Beaufort Art Council at (843) 379-2787 ARTS.