Ben Ham's camera reflects life … except bigger. And with stunning detail. Mother Nature isn't always so precise.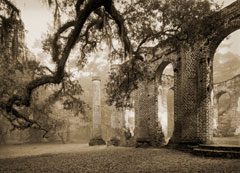 Ham works exclusively with an 8×10 wooden folding field camera, capturing images on black and white film. His work, rich in detail and strong in craft, is currently on display in the Walter Greer Gallery at the Arts Center of Coastal Carolina, through Jan. 22, 2010, in an exhibit titled The Journey: Large Format Photography by Ben Ham.
A nationally renowned photographer, Ham's art is in collections across the U.S., as well as Canada, the UK, France and South Africa. The exhibit will showcase several of his stunning landscapes, featuring limited-edition prints of the Rockies, the Southwest, California wine country and the Lowcountry.
"My work is usually finished very shortly after the sun breaks the horizon," Ham said about his process. "The time I actually expose film is measured in minutes, and I usually only expose a handful of sheets. The light changes that quickly."
Ham first seriously picked up the camera around the age of 15. Inspired by the work of famed outdoor photographer Ansel Adams, Ham was driven to pursue photography and a greater appreciation of nature.
Eschewing digital photography for the more time-consuming traditional process with the wooden field camera gives Ham his crisp imagery. But forsaking modern technology – he does not even own a digital camera – comes with its drawbacks. Each of Ham's shots has to be carefully planned, coordinated, organized and executed.
"I do a tremendous amount of scouting for the locations I choose to shoot," he said. "Once I choose a scene, I will decide if it is a morning or afternoon shot. Then I will return at the right time to shoot it. When I arrive, I observe it to work out the right composition before ever setting up the camera."
Ham usually exposes only two sheets for each composition and rarely exposes more than eight sheets of film per outing. The lighting for his shots usually only lasts minutes, which means he might make several trips to the sometimes-remote wilderness for one perfect shot, usually carrying 50 pounds of gear – the heavy camera and its equally sturdy tripod – in a pack on his back.
"Working this way keeps me grounded in the craft," Ham said. "There is nothing like setting up the camera, slipping under the dark cloth to see the huge image projected upside down and backwards on the ground glass."
Ham's dedication to his craft continues even after the camera has caught its image. His photographs are printed on the finest available paper produced by Hahnemuhle, makers of paper since 1584. It gives his images an unusual "quiet" quality. Each work is signed and numbered in editions of 500 or less. His photos are framed behind museum glass with distressed frames made in Italy.
Ham, originally from outside of Atlanta, has lived most of his life in South Carolina and on Hilton Head for 17 years. He has worked his hobbies into his art, enjoying exploring the creeks of the Lowcountry in his boat, as well as hiking, camping and skiing. His love of wine led him to shoot California's wine country.
"I am extremely fortunate to be able to make my living doing the things today that fascinated me in my childhood," Ham said. "I am still exploring marshes and 12,000 foot mountain ranges and now, canyons and deserts and regions of the Northwest coast. It is a wonderful life I have, being able to do something that I truly love."
His passion for his work has earned Ham many admirers. HGTV's Dream Home designers purchased one of his large pieces for their 2008 Green Home Giveaway and featured it prominently on the show. Seven of his large works hang in the Oakville winery of the prestigious Silver Oak Vineyards of Napa Valley, and the Michael Mondavi family hosted Ham in a one-man showing of his work at their Folio Vineyard in 2008.
"A landscape painter does not paint 20 canvases of a scene; they look for that one perfect spot and then set up their easel," famed photographer Mark Edward Harris wrote of Ham's work. "Ham's tripod is his easel, the film his canvas and the camera his brush. A great love for nature is his inspiration. And that love translates into the work."
In addition to the exhibit, Ham releases a book, "Vanishing Light," which is a collection of his images. There will be copies for purchase at the exhibit.
The exhibit is free, and the Greer Gallery is open during Arts Center business hours and on weekends Dec. 2-27 during the theater's run of "My Fair Lady." To RSVP to the opening event, call 843-686-3945, ext. 233.
The Arts Center of Coastal Carolina is a non-profit performing arts organization. In addition to a 349-seat, main-stage theater that hosts an annual theater and performing arts series, the organization oversees two art galleries and regional arts educational programs, as well as produces four community outreach festivals. The Arts Center received the 2006 Elizabeth O'Neill Verner Award for top arts organization in South Carolina.