Beaufort High School students and Pat Conroy Literary Center interns Holland Perryman, Alisha Arora, and Millie Bennett will interview bestselling Young Adult novelist Kalynn Bayron about her new novel This Poison Heart as a free virtual event on November 18 at 5:00 p.m., offered as part of the 6th annual Bluffton Book Festival. Registration is now open at https://aneveningwithkalynnbayron.eventbrite.com.
Perryman, Arora, and Bennett will be joined by their mentor Jonathan
Haupt, executive director of the nonprofit Conroy Center. Their discussion is presented in collaboration with Beaufort High School's DAYLO: Diversity Awareness Youth Literacy Organization, a student service club founded by Perryman, inspired by her experiences with social justice and inclusivity-themed programs of the Conroy Center's annual March Forth, including a conversation earlier this year with Bayron about her debut novel, Cinderella Is Dead.
About This Poison Heart and Kalynn Bayron
"This Poison Heart masterfully weaves a unique story grounded in the depths of Greek mythology and Black girlhood, ideal for lovers of folklore or those who enjoy the thrill of a well-paced and unanticipated adventure."—Booklist, starred review
"Bayron weaves science and Greek mythology into a captivating lore that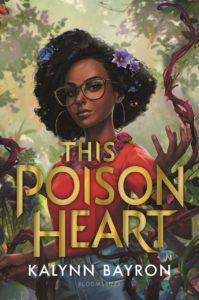 lends weight to this fantastical contemporary story. She conjures entertaining and realistic dialogue and attentive characterization, while incisive descriptions and sumptuous prose evoke a wonderfully gothic atmosphere."—Publishers Weekly, starred review
Author Kalynn Bayron is also a classically trained vocalist, and when she's not writing you can find her listening to Ella Fitzgerald on loop, attending the theater, watching scary movies, and spending time with her kids. She lives in San Antonio, Texas with her family.
Learn more about the annual Bluffton Book Festival, November 18-22, at www.blufftonbookfestival.com. And learn more about the Pat Conroy Literary Center at www.patconroyliterarycenter.org or in person at 601 Bladen Street, Beaufort (Thursday through Sunday, noon to 4:00 p.m.).