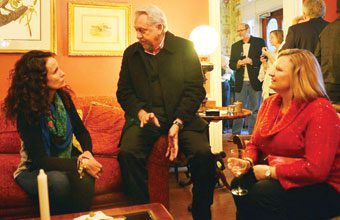 The Beaufort International Film Festival Celebrates a Milestone – A Look Back With Executive Director Ron Tucker

Interview by Mark Shaffer

Last year more than 70 filmmakers – writers, producers, directors, editors, cinematographers and actors – traveled to Beaufort in support of their selected projects. A whole bunch more simply showed up to see what all the buzz was about. Familiar faces mingle with the rookies, friendships are rekindled, partnerships are formed, and the post-screening pub-crawls pass into legend.
Before, during and after these filmmakers from around the nation and the globe dish out their love for BIFF and the town of Beaufort through a constant flood of social media to followers, fans, friends and family who in turn pay it forward. And on and on it goes. Each year the buzz builds and builds like seven-year cicadas warming up for the main event. And if last year's results are any indicator – and there is no reason to believe otherwise – the10th edition of South Carolina's largest film festival will be, as one filmmaker put it, "Epic, indeed."
BIFF takes place over four days each February but Ron and Rebecca Tucker spend the entire year piecing this massive, delicate puzzle together. When Ron finally finds a bit of time to sit down and reflect on the first decade of the fest, Rebecca is out taking care of pressing BIFF business.

BIFF AT TEN
            Mark Shaffer: Take us back a decade, as the first festival is about to become reality. Had to be nerve wracking.
            Ron Tucker: I remember that pretty clearly. It was kind of like "destination unknown"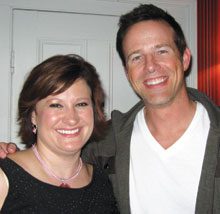 because we'd not done one before, though we'd been working on it for a while. The idea came up in 2004 when we had the Beaufort Regional Film Commission that we created to try and bring the movie business back to Beaufort. Once the idea of a film festival began to take shape we needed a venue. The theater [on Lady's Island] had just closed and Paul Trask allowed us to use it. It came complete with a concession bar and 35-millimeter projectors. That was before flash drives and the like and we had filmmakers who wanted to exhibit in 35 millimeter, Beta cam SP, Digi-Beta and more.
            MS: The end days of analog: way too many formats.
            RT: Right, but we had them all. And for the first two years our first screenings were at 7:30 in the morning. So people shouldn't complain about starting at 9 like we do now. Even so, we still had a theater full of people. That first year we also had a lot of filmmakers come that we didn't know were coming and I hadn't built in any time for Q&A. So scheduling was kind of a nightmare, but I really learned a lot and we've never gotten off schedule again.
            2005 we had a good turnout of about 500 total in attendance. I left feeling that we'd pulled off something grand with 500 people. We had an opening ceremony at the Chamber of Commerce with about 35 people and I thought, wow, what a great turnout (laughs)
            MS: So how many are you expecting for this year's opening?
            RT: More than 700 and a four day total of around 10,000. We've grown pretty substantially in ten years.
            MS: You had filmmakers show up that first year and you can't seem to get rid of them.
            RT: (laughs) Actor/writer/director Gary Weeks (above, with Rebecca Tucker) has been here every year since. Actually, his film won that year but he couldn't make it. We had this little mini-awards ceremony under a tent out in Habersham and there were maybe 35 people. I remember trying to get Gary on the phone. Nothing has changed. If you call Gary Weeks you still get his voice mail. (Laughs)
            When I did finally get him he was really excited. He was up against some big names but his little indy film won. And that started a long ten-year run of Gary Weeks with a film or a screenplay in competition. And that first year Margaret Ford Rogers and Marcia Rae won best screenplay and they've continued to have a good run at the festival.
            MS: There's no doubt it's become something of a family affair over the years. What
was the biggest takeaway from that first festival?
            RT: Learning how to gauge the audience, knowing what they appreciate and want to see -and staying on schedule.
            MS: There was a point when BIFF simply outgrew that venue and the Center for the Performing Arts at USCB became the logical choice. The festival remains under one roof – a much bigger roof – and moves into the heart of Beaufort. This changes everything.
            RT: We try to concentrate everything downtown so all of our hotels, shops, restaurants and bars can take full advantage of having an international audience here. One of our filmmakers summed it up best. She said, "I love this festival because it's the first pedestrian film festival I've ever been to. You can walk to everything." If you're coming for the festival and staying downtown you can leave your car parked all four days. And the town has really embraced the festival and we're looking to develop that even more over the next few years.
            MS: Well, it's perfect timing. There's nothing else going on and the streets would be empty be empty otherwise. So it's fun to see all those people with their BIFF t-shirts and lanyards roaming around.
            RT: You kno
w we do things a little different from other festivals. We don't have an established designated after party location for each day. We don't need to. We have a number of downtown establishments who are our sponsors and we want people to frequent all of them. We leave it to the filmmakers to network and they don't have any trouble coming up with their own pub-crawl, for lack of a better word.
            MS: Networking is what they do and social media explodes before, during and right after BIFF. The word has spread over time through the film community and that's really put Beaufort on the map.
            RT: Beaufort's pretty unique. You just don't get the same kind of experience anywhere else. So there's some novelty there for the filmmakers. The major festivals in the big cities are pretty much the same kind of thing, but when you come to Beaufort there's nothing like it. You know where you are.
            MS: I see it happen every year. Someone shows up for the first time. Maybe they've got friends or a colleague who've said, "You've got to get into BIFF," and they're kind of overwhelmed by the experience, but in a good way.
            RT: Right. A lot of them come here and are awestruck by the place and win or lose, they still speak highly of the festival because they were selected and it's a tough festival to get into in the first place. So when they leave they spread the word to other filmmakers and that word of mouth that you mentioned – filmmakers telling filmmakers about us – just continues to build momentum.
            MS: And eventually some of them move here and make a movie.
            RT: (Laughs) Exactly!
            MS: More on that next time. Looking back over the years there are a lot of great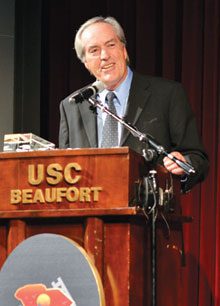 memories. One of my favorites was the 2010 festival when you honored Pat Conroy.
            RT: I think that was our breakout year. We had Michael O'Keefe and Blythe Danner here who starred in The Great Santini. Over the years we've had a lot of high profile celebrities who fly in for a part of the festival and leave. They were here the whole time and it was great. The opening ceremony was smaller and more intimate, outside under a tent at the Beaufort Inn.
            MS: That night changed the perspective for a lot of people. You could literally see the attitude shift in some of the local movers and shakers who hadn't taken the festival seriously. Suddenly they get the idea that this could be a very big deal.
            RT: That's a very good point because I had the very same feeling. I heard a lot of people comment on that, but the best came after the awards ceremony. Michael O'Keefe presents an award to Blythe Danner and after she accepts her award she presents the award to Pat Conroy. Pat takes the stage and gives this brilliant, eloquent speech. Afterward, when the place has cleared out and we're taking photos Pat put his arm around me and said, "I just have one question for you: how the hell did you pull something like this off in Beaufort, South Carolina?" That has resonated with me over the years. That told me that this was a big deal.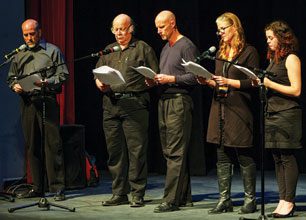 MS: Up to a point there was also some controversy as to whether this was a destination event. You settled that, as well.
            RT: We did a study with the USCB tourist folks and found out that a large percentage of attendees were here solely for the film festival. We chose to schedule it at a time when there were no graduations at Parris Island and no other big events going on.
            MS: What's the toughest part of this process.
            RT: Well, this year we had 718 entries from 66 countries. Just getting through them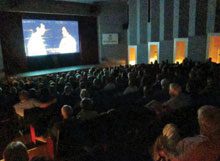 was a test of endurance. But there's something else. Over the years as the filmmakers come and embrace the festival we build these relationships with them. We become friends and embrace them right back. But we protect the integrity of the festival. There is no favoritism. So when they submit in succeeding years we hope they understand this if they don't make the cut. It hurts every year to go to those friends of the festival – particularly those people who really spread the love for the festival – and tell them that someone to whom they spread that love got in and they didn't. That's one of the hardest things we have to do. But we have to protect the integrity of the festival. It has to be fair. It has to be legitimate. So it's thanks and try again next year.
            MS: So, you're saying there was a big sigh of relief when this year…
TO BE CONTINUED…

IF YOU'RE GOING
The 10th annual Beaufort International Film Festival runs February 10-13th. Advance purchases are recommended, as seating is limited. Purchase your tickets online at BeaufortFilmFestival.com or at the Beaufort Regional Chamber of Commerce Visitor Center in the Arsenal at 701 Craven Street, Beaufort.
Lowcountry Weekly and lowcountryweekly.com are proud media partners with BIFF. Watch for exclusive content, features, interviews and live coverage of the festival on lowcountryweekly.com and our social media.