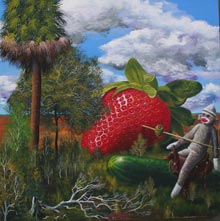 Spring is returning to the Lowcountry and what better way to welcome her than by coming out for ArtWalk, March 26th, from 5:00 to 8:00 p.m. Historic Beaufort's twelve galleries will offer beautiful, distinctive works of art for collectors and art lovers alike. Beaufort has been voted on of the best small art towns in America with our wide range of art and charming backdrop.
The Beaufort Art Association is excited to showcase its newest members in the featured Artist's room. Tammy Mohn Brister's high-fire and food-safe earthenware is also dishwasher and microwave safe.  Jo Ann Graham, a former dance instructor, takes inspiration from nature for her handmade and unique silver pieces. Mary Lee Grove primarily paints portraits of children and animals.  Bruce Hawkins is a digital photographer who captures scenes indigenous to the Lowcountry.  Carol Kamm draws on her extensive art education and background to work in many mediums and styles.  Ron Mabey is able, by virtue of his experiences working and teaching, to capture beauty most fail to appreciate.  Joann Madison is an avid quilter and offers classes in both
quilting and sewing.  Lynne Darling Morgan has worked in watercolors and acrylics but most recently paints seascapes in oil. Marian Sanders finds inspiration for her paintings of animals and scenic beauty in the surrounding Lowcountry.
At the Indigo Gallery, Gloria Dalvini finds an endless supply of images for her plein air painting of the Lowcountry, especially the historic homes which are one of her favorite subjects.Also at the Indigo Gallery, Sandra Baggette will welcome springtime in the Lowcountry with paintings of azaleas and wisteria form her garden.
Check out "The Right to Shooz," a feminist fundraiser at the Charles Street Gallery, for collectors who like shooz and lots of choice! This special exhibit includes work by Lowcountry luminaries such as Alexandra Sharma, Deanna Bowdish, Nancy Pollock, Olga Stamatiou, Lesley Hendricks, and many more, in many media. Tickets at the door are $20, and include beer, wine, two bands, food, and plenty of progressive camaraderie from 5 to 9pm at 914 Charles Street.
Bay Street Gallery will be introducing the exquisite work of the accomplished fiber artist, Barbara James. Her silk handbags are created through a fascinating process involving silk screen and extensive hand embellishment. They literally transform the wearer into a walking work of art. They gallery will also show new works by 12 Southeaster painters, sculpture, and mosaic artists, and will present new additions to its fine basket collection.
Claire Farrell, a new artist exhibiting in the I. Pinckney Simons Gallery will be featured for the Spring ArtWalk.  Farrell is a native Charlestonian that has traveled extensively.  Her earliest art encounters were private lessons in Japan, and many classes at the Gibbes Museum in Charleston.  She graduated from Duke University and holds two master's degrees from the University of South Carolina, one of which is art studio.  Additionally she has studied printmaking in Santa Fe,  Penland School, and at Santa Rapartata Art School in Florence, Italy.  She prefers to paint in oil and has appreciation for fine texture in her paintings.  Her love of the Lowcountry is greatly expressed in her Spring collection of marsh views and wildlife.  Softly lit, her paintings have the warm glow and palette of the coming summer.   Farrell is an accomplished portrait artist as well, painting both the younger and older subjects.  Her award winning work has been accepted in national and regional shows.  She is a past president of the South Carolina Watercolor Society and a signature member.  The I. Pinckney Simons Gallery will feature Claire Farrell for the month of March, please join us for her reception on Saturday, March the 26th,  5:00 until 8:00.
ArtLofts, the new kid in historic Beaufort's art scene, will be celebrating their grand opening during ArtWalk.  ArtLofts is now seven ladies strong with the addition of Linda Sheppard and her lum
inous portraits and landscapes. Laura Bricker will be on hand with her brilliant and beautiful Lowcountry vistas.  Pam Hagan's eclectic and whimsical work will please the eye. Lana Hefner will display her haunting and expansive landscapes. Shelly Kohli's intricate mandalas will resonate for the viewer and Mary Grayson Segars will be there with her beautiful, evocative, Lowcountry inspired oil paintings. Rounding out the seven is artist and author Susan Stone who will be signing copies of her new book, "We Heard You." In addition to being a working studio/gallery ArtLofts offers classes by veteran artists for students of all ages and interests so be sure to check out our teaching room. ArtLofts is located at 208-B Carteret st. over Smart Girl's consignment and down the alley next to Wren's restaurant.S
The Gallery is pleased to present "Fire in the Water", works on paper by painter Tim Carr. Join us for a visual journey of where water meets sky. Tim's work has the ability to transport us right to the scene of the action, filling our view with the great expanse of the Lowcountry seascape and beyond. This series celebrates the beauty of light dancing across the water, the intensity of the colors of the sun and the space in between where these two worlds meet. Fresh and exciting, these works are not to be missed.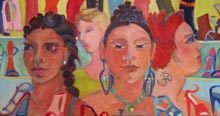 New work by Amiri and Kathy Crowther are featured at The Four Winds Collection. Amiri's work captures the very soul of Gullah culture. His powerful paintings combine an alluring blend of vivid colors and layered textures that evoke images of Sea Island Gullah culture. He quintessentially captures the essence of a people who have preserved their African traditions of net making, basket weaving, quilting and bateaux building. Using Adinkra symbols subtly stamped into his canvas, Amiri brings forth the spirit of the West African ancestors who are known as the Gullah today. Empowering images and colors dance across his paintings in an energetic display of color while telling the on-going story of the Gullah people. Amiri has been exhibited in major museums and is displayed in permanent collections nationally and internationally. He received his Masters of Fine Arts from the Savannah College of Art and Design and is currently a Professor of Fine Arts at The University of South Carolina Beaufort. Other new work on display for The Spring Art Walk are new pieces by Kathy Crowther. Collectors and followers of this well-known Lowcountry artist will be happy to be reacquainted with her distinctive style that includes vibrant colors and use of detailed ink pen. Some of the artist's latest work contains the same subject matter of Lowcountry nature but with the subtle use of metallic paints and interesting stamping.
Below are the galleries represented by the guild along with their locations:
Charles Street Gallery – 914 Charles St.
LyBensons Gallery and Studio – 211 Charles St.
Beaufort Art association Gallery – 1001 Bay St.
Rhett Gallery – 901 Bay St.
Four Winds Collection – 216 West St.
The Craftseller – 818 Bay St.
Indigo Gallery – 809 Bay St.
The Gallery – 802 Bay St.
Bay Street Gallery – 719 Bay St.
I. Pinckney Simons Gallery – 711 Bay St.
USCB Center for the  Arts – 801 Carteret St.
ArtLofts – 208-B Carteret St.
The Guild of Beaufort Galleries invites you to celebrate Spring in style with Spring ArtWalk, March 26th from 5:00 to 8:00 pm.