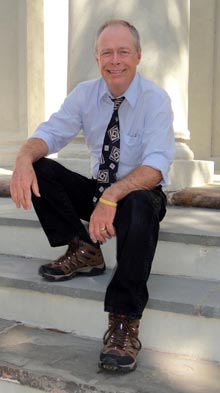 As USCB's Historic Beaufort Campus embarks on transformation to that of an Arts focused college, Dr. Phillip Dunn has accepted the position of artist in residence at the University of South Carolina Beaufort.  He is consulting with art faculty, administration, staff and other educational stakeholders on growing USCB's studio art program, as well as working on a new body of work based on the Carolina Lowcountry. The public is invited to join USCB in welcoming Dr. Dunn an view an exhibition of his work at the Center for the Arts on Friday, March 25th from 6:00pm -7:30pm.  Admittance is free.
Chicago born and raised, he received his bachelor of fine arts degree from the University of Illinois in Urbana, studied photography and design at the Institute of Design, Illinois Institute of Technology, and earned his doctorate in art education from Ball State University. During his career, Dr. Dunn has taught art at all grade levels from kindergarten through graduate school, and recently retired as chair and distinguished professor of art at the University of South Carolina.
Some of Dr. Dunn's accomplishments and awards include being named: Louise Fry Scudder Professor (2003), Mac Arthur Goodwin Awardwinner for excellence in Art Education (2001), National Art Educator of the Year (1999), National Program Coordinator for the National Art Education Association, Senior Program Officer of the Getty Institute for Educators on the Visual Arts in Los Angeles, senior faculty member of the Florida Institute for Art Education; both South Carolina and Southeastern Regional Art Educator of the Year (1987), and Mary J. Rouse Award winner as the nation's outstanding young art educator (1981). The author of numerous books and articles, his publications include the Pulitzer‑nominated, Lillian Smith Book Award winner, A True Likeness: The Black South of Richard Samuel Roberts, 1920‑1936, Promoting School Art: A Practical Approach, and Creating Curriculum in Art.
At USC, Phil chaired the Department of Art, which included four areas: Art Education, Art History, Media Arts and Studio Art boasted over 800 undergraduate and graduate majors. As a member of the Art Education faculty he courses that dealt with multidisciplinary approaches to curriculum construction, the educational uses of interactive hypermedia, program administration and management, and teaching methodologies for art educators. Professor Dunn's summer technology workshops for art teachers garnered over $700,000 in outside funding and trained over 400 South Carolina art teachers in how to incorporate technology into public school art programs.
Dr. Dunn's art career is now focused on landscape photography. During the past several years his landscapes and digital photomontages have been exhibited in numerous group and one-person shows including: Montage, Six Decades of Leadership, Mirror Image, and a large (forty piece) one-person show entitled Images from the Digital Domain at the LaGrange Art Museum. He has also completed major commissions for the University of South Carolina, the McCausland Brain Imaging Center, the USC Technology Incubator, and SCANA.
USCB's growing Bachelor of Arts in Studio Art is offered on the Historic Beaufort campus, in the heart of the historic district in one of the top 25 small towns for art.  With its waterfront views and easy access to the architecture, tradition, culture and environment of the Lowcountry, the campus offers a unique opportunity for both faculty and students of the arts.
ABOUT USCB:
Nestled in the South Carolina Sea Islands, the University of South Carolina Beaufort (USCB) is a senior institution of the University of South Carolina system serving the southeast coast of Georgia and South Carolina. The university has two campuses which serve a diverse student body of more than 1750 students. The Historic Beaufort campus, located on Beaufort's downtown waterfront, houses an innovative baccalaureate studio arts program in close proximity to the Beaufort's many art galleries.  The Hilton Head Gateway campus in Bluffton, S.C., offers cutting-edge Computational Science and Nursing laboratories and is the home to Sand Shark athletics.  USCB offers students an exceptional place to learn and live in an environment focused on growth, preservation and opportunity. For more information about the University of South Carolina Beaufort, please visit www.uscb.edu online or call the university's Office of Public Information at 843-208-8030.