Gayle Miller: Women Together, Feminine Expressions in Watercolor, will be featured at Art League of Hilton Head Gallery from August 1 – 26. The artist's reception is on August 9, from 5-7 pm. The event is free and open to the public.
After graduating from the University of Maryland, Gayle'€™s relocation for her career ultimately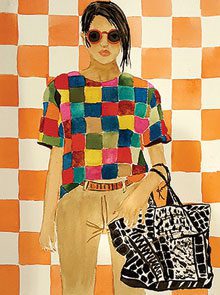 lead her to Apparel Arts of San Francisco where she delved into clothing design and patterning. While at AASF, Gayle discovered her love of watercolor painting. Fifteen years later, Gayle has found great success here in the Lowcountry; she is President of Society of Bluffton Artists, Vice President of All About Art, exhibits additionally at Alexander's Restaurant, Twenty/ 20 Coffee Shop, and was the cover artist of "Lady Lowcountry" for 10 months.
Gayle's exhibition Women Together features "€œstunning, eclectic, fashionable women that are fun to paint and very expressive, says Gayle; "some of my personal attitude shows in their style." Her whimsical watercolors portray a variety of feminine expression with assured execution behind every brush stroke. A fellow artist recently told Gayle that she "paints in verbs rather than nouns and her paintings have life, motion, and flow."

Art League of Hilton Head Gallery located mid-island, inside Arts Center of Coastal Carolina, 14 Shelter Cove Lane, Hilton Head Island, 843 – 681 – 5060, www.artleaguehhi.org