With Farmer's Markets bulging with low priced produce, U-Pick opportunities around, and home gardens giving up their bounty, it's time for us to be giving some serious 'recession proof' thought to the many different ways all this 'garden gold' can be preserved for later.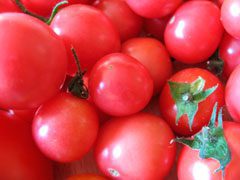 Fortunately, there's a lot of help out there, online and in print. A good place to start is the National Center for Home Preservation, there they have tutorials on all the ways to can, freeze, dry, cure & smoke, ferment, pickle, make jam and jelly and store. They sell a great book by the Georgia Cooperative Extension called 'So Easy To Preserve,' along with DVD's that show methods of preserving.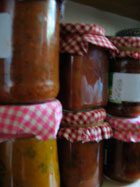 Lots of people use preservation ideas as a way to create holiday gifts. For example, using apples, you can make apple butter, apple chutney, or apple relish. For jellies, all kinds including our Lowcountry favorite: hot pepper jelly. Flavored vinegars are easy to do for gifts as are pickles, relishes, and chutneys. Always be sure to use only safe, tested recipes from research-based institutions such as the NCHFP, USDA, or University-based Cooperative Extension Systems and closely follow directions.

A Word of Caution

Do not use the old 'open kettle' method that your grandma used to can & make jams and jellies. Today, according to the USDA and University Extensions, you must use a 'water bath' or 'pressure canner' to sterilize the food if you want to avoid food poisoning (i.e. botulism). Also, canning recipes prior to 1990 should not be used. All high acid foods should be processed in a 'water bath' canner and all low acid foods in a 'pressure canner.' Here's a chart from the USDA:
The two leading manufacturers of pressure canners are Presto and All American (Wisconsin Aluminum). They are more expensive than water bath canners but are very well built and range in price from $79 on up. A good listing of both water bath and pressure cookers along with other canning supplies can be found online at the nonprofit: www.pickyourown.org/canningsupplies.htm . The key thing about both these systems is that they help you raise the water temperature to the range of 180 – 212 degrees (simmering boil to rolling boil), which is crucial for killing any bad bacteria.
Freezing is another option for preserving foods. But here in the Lowcountry, with all our tropical storms up into November, you run the risk of power outages. That said, fruits and vegetables can last up to a year frozen, chicken, 6-9 months, fish 3-6 months, ground meat 3-4 months. All vegetables should be blanched before storage, which is a few minutes of dowsing into boiling water or steam. This kills bacteria, lengthens storage time and preserves color and taste. A list of recommended blanching times for each variety of vegetable can be found online at the National Center for Home Food Preservation.
A neat trick for freezing fresh herbs is to fill ice trays half full of water and place cut and washed herb leaves in the trays. When frozen, fill trays to the top with water, then refreeze. Place cubes in plastic bags in freezer and they are ready anytime to be added to stews or dishes.
For best results, freezers should be kept at 0 degrees or lower for best quality.
And a good rule of thumb is 'first in first out', so that you enjoy older foods first over newer arrivals.
Food dehydrators are designed to quickly dry food at 140 degrees. With one of these around the house, you can make fruit leathers, dried herbs, jerkies, dried pumpkin and sunflower seeds, and just about anything else dried your imagination can come up with. Make sure you get a good dehydrator, with enough capacity for your plans. Or they are easy to build. Dried items make especially easy and safe gifts to send by mail to our military personnel.
If you get more industrious, there are many ways to store large amounts of food under your house in a specially constructed root cellar or in a separate insulated structure or even a cool closet in your house or garage. The old fashioned term for this was a 'larder.' Or you can store a whole host of items from carrots to fruit to dried beans in all sorts of containers from barrels, to cardboard boxes, to trash cans, and there is an equally wide range of packing materials for fruit and root crops available from damp sawdust, to spanish moss, to newspapers, to straw. The book 'Keeping The Harvest' by Nancy Chioffi goes into great detail on a whole host of these sorts of preservation techniques.
Smoking and curing is another whole realm of preservation. Applied mostly to meat and some fish. With this technique you can make your own dry-cured Virginia Style ham, all types of sausages, smoked turkey, venison or game sausage or your own version of Italian style cotto salami, prosciutto, or spanish jamon serrano (spanish ham) which are all so expensive to buy in the gourmet food stores. One woman I met from Kentucky starting making her own homemade, nitrate free bacon and started selling it to chefs and then in places like Whole Foods. She now has a multi million dollar business. The same goes for Bob McClure who started making pickles as a hobby and now sells to dozens and dozens of gourmet stores in the North East.
Something that starts out as a 'recession buster' hobby might turn into your own artisanal food business. For example, LowCountry Produce out on Hwy 21 started preserving their crops into jellies and jams and now sell them nationwide at Dean and Deluca stores and have gotten raves from the New York Times.
So whether it's just a few jars of homemade tomato sauce made from some tomatoes grown in a pot, or a whole new-home grown business selling peach chutneys or jam, the world of 'preserving the harvest' opens up all sorts of possibilities that will help your pocketbook (and possibly even add to it!).