A creative fundraiser for Lowcountry Montessori School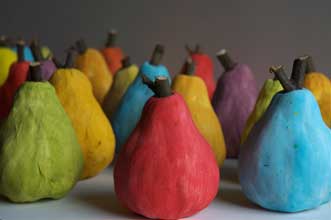 Find all things art – but only fabulous things! – from more than forty artists throughout the Southeast at ArtScape Beaufort on October 25, 26 & 27 at 802 Bay Street (formerly The Gallery) in Beaufort.
Paintings from renowned artists such as Bellamy Murphy, Jeffrey Callahan, Libby Smart and Susan Eisenhauer . . . gorgeous jewelry from designers Currie Kilpatrick Boyd (Nicholas Lane, Charleston), Heather Tiller (Filigree, Charleston), Juli Mills (J Mills Studio, Beaufort), and Helena Appleton in Beaufort, among others . . . covet-able bags from Andree West in Greenville and Oleander in Savannah . . . must-have clay pears by Robin VanValkenburgh and clay work by Jeff Kopish (Lime Blue, Charleston) . . . folk art flags from Beaufort artist Chuck Gardner and addictive folk art paintings from The Chicken Man, Ernest Lee (believe us, it's hard to buy just one!) . . . some amazing works by artists from the celebrated Martin Gallery in Charleston . . . adorable and delectable cookies from Two Smart Cookies . . . linens, paper goods, and so many more artisan treasures just waiting for you!
For hors d'oeuvres catered by Saltus, sweet temptations by Two Smart Cookies, libations and first dibs on art, join us for ArtScape Soiree, October 25th from 6:00 to 9:00 p.m. at 802 Bay Street. Tickets are limited! $45/person or $80/couple. To purchase by check: Lowcountry Montessori School, PO Box 1755, Beaufort, SC 29901. To purchase by credit card: http:// lowcountrymontessori.ticketbud.com/soiree.
Admission is free on October 26, from 9:00 am to 8:30 pm, and on October 27, from 11:00 am to 5:30 pm. Be sure to stop by during Art Walk – we'll have some delicious treats from Missy Trumpore, owner of Beaufort Catering. And it's not all about adults – there are plenty of artisan treasures for the kids, too, including nostalgic graphic tees by Elizabeth Horton and children's art.
And don't let your children miss out on this! From 1:00 to 3:00 p.m. on October 26, Jonathan Miller, author and illustrator of The Adventures of Sammy the Wonder Dachsund children's books, will be at ArtScape to sign copies of his books; the books, along with illustrations from them, will be available for sale at the event. Children everywhere love reading about Sammy's adventures, and as a special treat, at 1:30 p.m. on October 26, Jonathan Miller will read one of
his books to them!
ArtScape Beaufort will benefit Lowcountry Montessori School (LMS), a non-profit, state chartered public school which will open Beaufort County in August 2014. ArtScape is our school's first fundraiser, and we plan to make it an annual event in Beaufort.
Lowcountry Montessori School began as a group of dedicated parents, teachers, and community members with a vision of offering authentic and free public Montessori education to as many children as possible in and around Beaufort, South Carolina. Community outreach resulted in over 700 letters of support, confirming that area families actively seek alternate public education options and demand for a public Montessori program is strong. Effectiveness of the Montessori Method, first developed over one hundred years ago by Maria Montessori, has been widely recognized by researchers and educators. Experiential and collaborative, it promotes and allows focus on individual needs and progress. The LMS charter received final approval on July 29, 2013, from the South Carolina Public Charter School District. In 2014, LMS will serve children from first through ninth grades, expanding through 12th grade by 2017. Because we are state chartered, students from all counties in South Carolina are eligible to attend LMS.
The LMS mission is to increase access to an authentic Montessori-based education. Our staff and parents will collaborate to foster the development of independent, well-rounded, academically prepared and responsible citizens. LMS is committed to creating an environment that inspires children to become lifelong learners and creative problem solvers for the 21st Century and beyond.
Although LMS receives state funds on a per-pupil basis, we receive less money per pupil than county-chartered schools. Therefore, fundraising activities and giving campaigns are necessary to supplement the state funds and provide our children with an education and experience consistent with our mission. Currently, all fundraising proceeds and contributions will be applied to expenses associated with starting a new school, such as educational materials and equipment, director and teacher searches, enrollment costs, operating and capital expenses, teacher training, and other professional and board development. Funds will be used solely for the school, and all contributions are tax deductible; until our 501(c)3 status is approved, the Public Charter School Alliance of South Carolina will accept donations on our behalf. Parents, family, friends, businesses and other community members are all welcome to contribute. To donate, make checks payable to the Public Charter School Alliance of South Carolina, and in the memo, please write New School Development – Lowcountry Montessori. Checks may be mailed to Lowcountry Montessori School, PO Box 1755, Beaufort, SC 29901 or directly to the Public Charter School Alliance of South Carolina, attn Executive Director Mary Carmichael, PO Box 80444, Charleston, SC 29416.