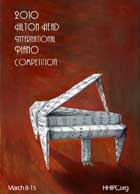 Art  League Gallery to feature SCAD Art Posters for 2010 Hilton Head International Piano Competition during March
The Art League Gallery presents SCAD Posters created for the 2010 Hilton Head International Piano Competition cover art from March 8 – April 10, 2010.   There will be an opening reception on Tuesday, March 9, 5-7 pm at the Art League of Hilton Head Gallery located in the Pineland Station Atrium, Suite 207, Hilton Head Island.  The exhibit showcases 38 illustrations and all are for sale. The public is invited.  For information call 843-681-5060 or visit the website www.artleaguehhi.org
The cover of this year's Hilton Head International Piano Competition (HHIPC) Program is the result of the collaboration with the Savannah College of Art and Design (SCAD).  Willis Shay, an avid arts aficionado, states:  "I have always been interested in showing the relationship between the visual arts and music and the SCAD students provided that opportunity. Their talent recognizing the importance of the Piano Competition is both entertaining and revealing."  Two years ago HHIPC began searching for a way to tap into the creativity of young visual artists in order to bring a fresh appeal to young pianists whom the Competition seeks to attract and decided to make this collaboration with SCAD an annual event. For the 2010 artist competition, students of the Art and Illustration Departments of SCAD presented 38 works.
The winning artwork and First Prize of $1200 was awarded to Lindsay Johnson for her intriguing Origami piano made of sheet music. Second Prize of $500 was awarded to James Hall; and Third Prize of $300 to Jeremy Caldwell.  A wide range of styles is represented.  Alice Feagan featured typographic design within wrap-around piano keys.  "I wanted to create a poster that exuded a sense of energy and sound through the use of playful typography."  Lynsey Steinberg rendered a piano releasing a burgeoning floral design and Cassandra Dixon one with Raphaelesque Putti.
The cover art exhibition at the Art League of Hilton Head Gallery highlights a creative collaboration between the Symphony and the League under the motto Art and Music.  The show will also include works of Art League artists who painted the Symphony in action or depicted a music theme.  These works can also be found in the Symphony's 28th Season Program color brochure. All artworks are for sale.
Visit the Art League Gallery in Pineland Station to see this unique exhibit combining art and music. — The Art League of Hilton Head promotes and supports the visual arts through education, exhibitions and partnerships for the cultural enrichment of the community and its visitors.  It is a not-for-profit 501 © 3 organization. The Art League also holds classes at the Art Academy on Cordillo Parkway.  Art exhibitions at the Gallery in Pineland Station are changed monthly and the artworks of over 150 member artists are displayed and available for sale at all times.  For more information check the website at www.artleaguehhi.org or call the Gallery at 843-681-5060.