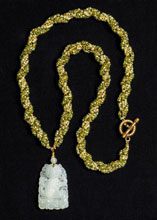 Four local jewelry designers will showcase their beaded works in Artful Adornment: Jewelry and Beyond, held at Art League Gallery this December. The show celebrates the variety and beauty found in beadwork, from Caroline Alderman's whimsical necklaces and Linda Raih's highly complex designs to Carol Romano Geraghty's sculptural pieces and the architecture-inspired work of Nancy Apy. 
A variety of techniques and forms will be represented, including beaded sculptures, jewelry and embroidered art pieces fashioned with thread or wire. "Each piece is unique; you can clearly see the inspirations and personalities of the artists represented in the artwork," says Kristin Griffis, Gallery Manager. "And, of course, with the holidays coming, any one of these pieces would make an elegant gift for yourself or someone special."
Artful Adornment: Jewelry and Beyond will be held December 3-31, 2019. An artist reception will be held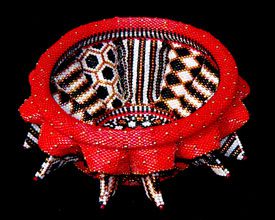 Wednesday, December 11, 5-7pm. There will be a Meet and Greet with the Artists on Tuesdays, December 3, 10 and 17, 10am-12pm, where you can learn more about the artists' work, techniques, inspirations and more. 
Art League Gallery is located mid-island inside Arts Center of Coastal Carolina, 14 Shelter Cove Lane, Hilton Head Island, 843-681-5060.