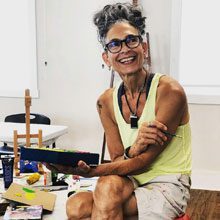 Missy Gentile leads art classes referencing a quote from artist Helen Frankenthaler, "There are no rules. That is how art is born, how breakthroughs happen. Go against the rules or ignore the rules. That is what invention is about." 
This is an edict that Gentile has applied to her own art — which she will exhibit December 2 through January 5 at The Society of Bluffton Artists (SoBA) gallery in Old Town Bluffton. Meet the artist during an opening reception from 3-5 p.m. December 8 at the gallery. These events are free and open to the public.
Gentile's abstract art exhibit, "Fresh Haiku," evokes a sensation, a feeling, an emotion through the use of color on canvas. Gentile draws inspiration from her life experiences and her core values of service and human connection.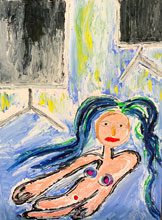 "The paintings are in groups that when seen together, have a unifying theme expressed in each haiku," Gentile said, adding, "Please enjoy the journey into poetry of my paintings."
After graduating from Lock Haven University in 1982, Gentile set off for Paris, France with a one-way ticket and $200 in her pocket. The experience of living in Paris for three years laid the foundation for a life of creativity and culture. Gentile went on to settle in Houston, Texas for the next 20 years, where she started her first gallery and dedicated her life to helping others. Gentile volunteered at the Omega House, a hospice for terminal AIDS patients. She facilitated connections and emotional care through sharing a creative art experience.
Gentile continues to exhibit and sell her work — which has been curated in international collections. Her accolades include a 2012 "Art Business Week" feature about a painting in remembrance of September 11, and the cover of Pink Magazine. The Bluffton-based artist also leads an abstract art class at SoBA's Center for Creative Arts, located next door to the SoBA gallery. 
"What the eye sees is what it is," Gentile said of her work. "How it moves you is the most important."