For the past year, Art League Artist Irene K. Williamson has been working at honing her skills and engaging her imagination to produce a collection of artwork she has named "Fusion."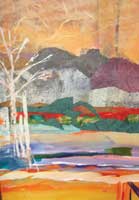 This show will be at the Art League Gallery in Pineland Station from November 11 through December 6. An opening reception will be held on November 11 at the gallery from 5:00-7:00 p.m.
"The show is named Fusion," says Irene, "because it best describes the unique combinations I've invoked to produce my latest work. I've combined painting with collage, abstraction with reality, form with free-form, paper with found objects to create this unique collection. To spend an entire year immersed in developing my new work has been a rewarding experience." Known primarily for her definitive collage pieces, the new collection has expanded her vision and creativity. Bold colors imbue her paintings and collages with new vitality and emotion. She now expresses her ideas on a bolder and broader scale without any hesitation.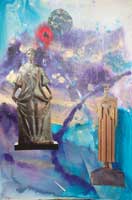 "Tight Quarters" is a complex fusion piece that combines collage with painting in acrylics to produce a unique melding of colors, materials and textures. "When Time Stood Still," combines images of watches all pointing to the same moment in time in a colorful collage, while "Greenfields" fuses her photography into an abstract field of color. "He Said, She Said," couples reality with the abstract.
Though Irene studied at the Art Students League in New York, she only recently turned to art to express her ideas. Married for 34 years to a fine artist, Jack Williamson, she was intimidated by his abilities and held back on painting. Recently, she has blossomed as an artist, winning Best of Show in the Society of Bluffton Artists' Judged Show in 2007 for her abstract painting, "Derelict City." Irene's work can be seen at the Art League Gallery of Hilton Head, the Society of Bluffton Artists Gallery in Bluffton and Signature Gallery in Savannah. She recently participated in the show of abstract art at the Arts Center of Coastal Carolina called "On the Edge," and has worked with the Chamber of Commerce to develop "Art Around Town," the second annual event designed to introduce the public to the numerous art galleries in the Hilton Head and Bluffton areas.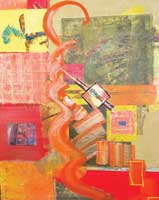 Irene is a native New Yorker who had a career in marketing, new product development and fashion as an executive at Avon Products, Inc., the cosmetics company. She later ran her own international communications consulting company called Williamson International. She and her husband moved to Hilton Head Island in 1989. "The Art League of Hilton Head has been instrumental in encouraging me to develop my art skills through its offerings of workshops, classes and the supportive friendships of fellow artists," says Irene.
The Art League Gallery in Pineland Station Mall, in Suite 207, is open Monday- Saturday from 10:00- 6:00. For additional information call the gallery at 843-681-5060 or check the website at www.ArtLeagueHHI.org
The Art League of Hilton Head is a not-for-profit membership organization dedicated to promoting and supporting the visual arts through education, exhibitions and partnerships for the cultural enrichment of the community and its visitors.