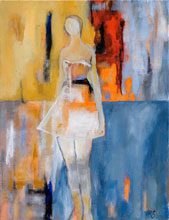 This April, Art League of Hilton Head showcases abstract art three ways in Abstract x 3, an exhibit of work by local artists Rose Cofield, Jennifer Rocco Stone and George Watson. Inspired by the use of bright colors and textures, women's interior emotional landscapes, and the free-flowing shapes of blown glass and handmade pottery, the works by Cofield, Stone and Watson show three very distinctive points of view.  
Cofield is a sculptor-turned mixed media artist. Her latest work reflects her love of vibrant colors and shapes. She has taught sculpture workshops in South Carolina schools and arts organizations, while her 2D work has
been selected for shows both locally and in New York.
Stone is a retired public school art teacher. Her work consists of contemporary depictions of women combining her skills in figure drawing and the unpredictable quality of abstract art and pure bold color saturated abstract canvases. Stone has been featured in numerous solo and group exhibits in the New York and New Jersey area. 
Watson is a glassblower and potter as well as a 2D artist. Full of vivid color and whimsical brushstrokes, his paintings consist of forms, shapes and patterns echoed in his glasswork and pottery.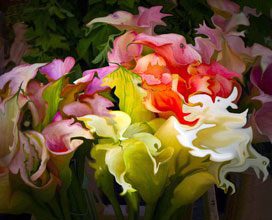 Abstract x 3 will be held March 31-April 25. An artist reception will be held Wednesday, April 8, 5-7pm. Each artist is offering a talk or demo—Watson on Tuesday, April 7 at 12:30pm (talk); Cofield on Monday, April 13 at 1pm (demo); and Stone on Wednesday, April 15 at 11am (talk). The show, reception, and talks and demos are free and open to the public.
Art League Gallery features local artwork in all media created by more than 170 member artists. All artwork on display is for sale and exhibits change every month. Located mid-island inside Arts Center of Coastal Carolina, next to the box office. Art League Gallery open every day Monday – Saturday 10am – 4pm & Sunday 12 – 4pm plus 90 minutes prior to all Arts Center Performances.
Top to bottom: Works by Jennifer Rocco Stone, Rose Cofield, and George Watson