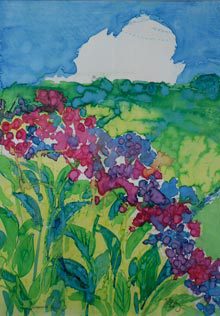 New Work by Carol Henry at the Charles Street Gallery in Beaufort
From March 9 through April 1, the Charles Street Gallery offers a show of new work by Carol Henry, an international printmaker whose vibrant colors on paper reflect a beauty-saturated world. Henry lives in Beaufort a few months of the year, also maintaining a home and studio in Ireland, where she is a member of Cork Printmakers, a jury-selected association for artists working in Ireland.
Meet the artist & enjoy the reception on Friday, March 9 5:30 to 9pm, at 914 Charles Street in Beaufort. The Charles Street Gallery is an established source for Lowcountry and international art, presented within a carefully renovated house surrounded by a lush garden in the middle of Beaufort's historic district. 843-521-9054, thecharlesstreetgallery.com.