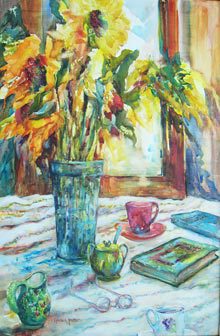 Lynda K. Potter explores the diversity of the Lowcountry in "Celebration of Paint and Water" at the Art League of Hilton Head's Walter Greer Gallery now through March 31
st
. The public is cordially invited to the opening reception on Friday, March 2 from 5 –7 PM. The Art League Gallery is located in the Arts Center of Coastal Carolina, 14 Shelter Cove Lane in Hilton Head.
Working in watercolor, acrylic and mixed media, featured artist Lynda K. Potter uses loose brushstrokes to evoke the magic of the Lowcountry world with its charming cottages, live oaks dripping with Spanish moss, sunsets on rivers, marshlands in early morning light and beaches alive with colors of sand and sky. Her florals, lush with soft edges, as well as her landscapes are painted in what the Bluffton resident calls "abstract realism."
"Her work is an artful balance of what the viewer knows is there and what the viewer's imagination brings to the painting….  It is the free-flow of impression from the realism that delights…Potter's work always offers something new," wrote The Island Packet's Nancy Wellard.
The artist, a signature member of the Pennsylvania Watercolor Society, has been featured in more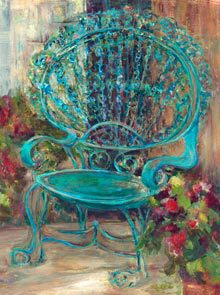 than 21 one-woman exhibitions as well as numerous group shows. She has also been invited to show her paintings in more than 30 exhibitions in New Jersey, Pennsylvania, Tennessee, South Carolina, Georgia and Florida. Her work has been published in six books.
Potter, who lives in Bluffton, also teaches watermedia classes at the Academy of the Art League of Hilton Head. For information on classes call 843-842-5738 or visit www.artleaguehhi.org
Also on exhibit during March are works from Art League member artists. The Art League of Hilton Head is a not-for-profit membership organization dedicated to promoting and supporting the visual arts.  Gallery hours: Monday-Saturday, 10-4 and one hour prior to performances at the Arts Center of Coastal Carolina. For details call 843-681-5060 or visit  www.artleaguehhi.org