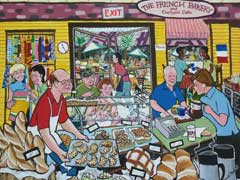 If the ghost of artist Vincent van Gogh came looking for his missing ear, he'd be delighted to find the one fashioned by sculptor
Dave Musial
for the Art League of Hilton Head's Golden Ear Award.  Van Gogh, who sliced off his lobe in a fit of madness (or, as yet another story goes, got part of it hacked off in a dust-up with his friend Gauguin) is the inspiration for the Art League's First Prize in its annual Members' Show.
The show, titled Metamorphosis 2011: New Space, New Art, New Zing! features the work of more than 100 of the League's artists and encompasses paintings, photography, mixed media, sculpture, basketry, woodturning, ceramics, and  jewelry. The exhibition, which runs from January 4-29, Monday – Saturday, 10 am – 4pm, will inaugurate the League's new location at the Walter Greer Gallery at the Arts Center of Coastal Carolina.
The Art League came up with the unusual award to celebrate the artist's lust for life.  "The Golden Ear is the symbol of an artist's passion, innovation and dedication to his or her work," says Ted Jordan, a painting and drawing instructor at the Art League of Hilton Head's Art Academy.  "Van Gogh's drawings filled with his unique ways of making marks was a springboard to his painting."
"I sculpted the Golden Ear as van Gogh might have painted it," says Musial who is renowned for his quirky sculptures and humorous slice of life paintings of Hilton Head icons like Harold's Diner and Captain Woody's.   Indeed, one can see the swirly lines of "A Starry Night" in Musial's whimsical lobe.  "I had fun with it," he declares.  First he hand-built an armature of galvanized wire and then covered it with a plastic-like clay made by Polyform which he then cooked in the oven.  "The amount of time it's in heat is critical," says the local sculptor, "– too much and the piece becomes brittle.
One of the puzzles Musial had to wrestle with was: which of van Gogh's ears was it?  That, along with the origins of the "missing" ear, he discovered, is mired in controversy.   The Impressionist painter's self-portrait shows the right ear (the one Musial chose to portray,) swathed in bandages.  Other sources insist it was the left.  Whatever the truth, one League artist will get to take home Musial's whimsical golden take on the appendage.  Second and third place winners will garner silver and bronze ears also fashioned by the sculptor.
Musial's passion for art began with the Katzenjammer Kids in the funnies section of the newspaper.   Musial got an up-close-and-personal look at the strip at his father's drawing board where the antics of Hans and Franz sprung to life.  (In 1956 Joe Musial, Dave Musial's father, had taken over the popular comic strip which had been created for the Hearst newspapers in 1897 by Rudolph Dirks.) A perk of his father's fame was meeting famous sports figures like baseball player Stan Musial – no relation to the artist – and celebrities like Rudy Valle and composer Richard Rodgers.
In that heady atmosphere, art came easy, says Musial.  "But my father always wanted me to be better."  A fine arts degree from Indiana, graduate studies at Princeton, and the opportunity to study under sculptor Joe Brown help him develop his craft.  Brown's sculptures of boxers set the standard and Musial learned to work in three-dimensions making figures that reflect on the sport.
He soon embarked on a career in advertising at Leo Burnett in Chicago where as Art Director/Executive Producer he went on to win prestigious Clio awards as well as a Golden Lion in Cannes.  Today Musail works in a variety of media– oils, pen and ink, pastels, sculpture, mixed media–pencil, pen and ink.
Musial's Golden Ear and his mini-silver and bronze ears will be given out during the Champagne opening reception for the Art League's Metamorphosis show on Saturday January 8 from 5-7PM. Call for details 843-681-5060 or visit the Art League website www.artleaguehhi.org