Christmas is coming. There's no stopping it. If you haven't put your Christmas tree up yet, here's an idea. Why not host a tree-trimming supper? What a great way to spend time with family and/or friends and get your holiday decorating done at the same time! My menu has a Mexican theme. Whip up a batch of margaritas and let the festivities begin. Happy Christmas partying!
Chorizo Canapes

1 pound ground chorizo
1 (8-ounce) package cream cheese, at room temperature
1 (4-ounce) can chopped green chiles
½ cup shredded mozzarella cheese
½ cup shredded sharp cheddar cheese
2 (1.9-ounce) packages frozen phyllo mini tart shells, thawed
Grape tomatoes, sliced, to garnish
Jalapeno slices, sliced, to garnish
Cook chorizo in a dry frying pan over medium heat until cooked through. Drain very well on paper towels. Preheat oven to 350 degrees. In a medium bowl, mix chorizo with cream cheese, green chiles, mozzarella cheese and cheddar cheese. Mix well to combine. Lightly spray a baking sheet with cooking spray. Using a very small ice cream scoop, fill the phyllo tart shells with the chorizo mixture. Top each canape with a slice of jalapeno and a slice of grape tomato. Bake in preheated oven for 15 minutes or until warmed through. Makes 30.
Mexican Street Corn Salad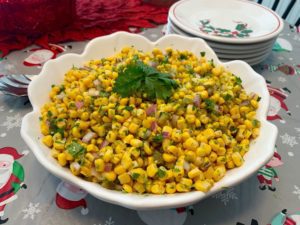 This salad recipes turns the classic Mexican street food into a delicious and easy-to-prepare side dish.
2 (29-ounce) cans corn, drained
½ cup diced red onion
2 tablespoons jarred diced jalapenos
1 tablespoon extra-virgin olive oil
½ cup fresh lime juice
½ teaspoon cumin
¼ teaspoon chili powder
¼ teaspoon salt
1 bunch fresh cilantro, minced, save a few leaves to garnish
Zest of 1 lime, to garnish
Crumbled cotija or grated parmesan cheese, to garnish
In a large bowl, mix corn with red onion, diced jalapenos, extra-virgin olive oil, lime juice and spices. Mix well to combine. Stir in minced cilantro. Refrigerate until ready to serve. To serve, place is a serving bowl. Garnish with the zest of 1 lime and several cilantro leaves. Serve with Cotija or parmesan cheese on the side.  Serves 10 to 12.
Nachos Locos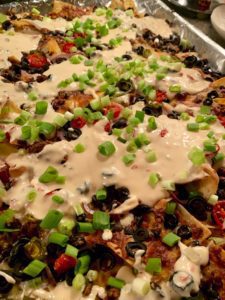 Everyone loves nachos! This is my go-to beef recipe. I have another favorite with Italian sausage.
2 pounds ground beef
2 (.85-ounce) packages taco seasoning mix
1 cup water
1 (18-ounce) bags tortilla chips
1 (15-ounce) can black beans, rinsed and drained
4 cups shredded mozzarella or cheddar cheese
½ small red onion, thinly sliced
1 (4-ounce) can sliced black olives
Sliced jalapenos, to taste
1 medium tomato, diced
1 (15-ounce) jar queso dip
5 green onions, chopped
Accompaniments:
Shredded iceberg lettuce
Diced tomatoes
Salsa
Salsa verde
Guacamole
Sour cream
Brown ground beef in a large skillet. Remove from skillet and drain well on paper towels. Discard grease and clean skillet. Place skillet over medium heat. Add 1 cup water and both packages of taco seasoning mix; stir to combine. Return cooked ground beef to skillet. Reduce heat, simmer uncovered, 4 to 5 minutes, stirring often, until thickened. Preheat oven to 350 degrees. Cover a full-sized baking sheet with aluminum foil. Spray with cooking spray. Spread tortilla chips evenly on prepared baking sheet. Top with seasoned ground beef. Layer with black beans, shredded cheese, red onions, black olives, sliced jalapenos and tomatoes. Bake in preheated oven for 30 minutes or until cheese has melted and all ingredients are warmed through. In the meantime, heat queso dip over medium heat in a small sauce pan. Remove pan from the oven and pour heated queso sauce evenly over the nachos. Garnish with chopped green onions. Serve with shredded iceberg lettuce, diced tomatoes, salsa, salsa verde, guacamole and sour cream on the side. Serves 6 to 8.
Better Than Anything Cake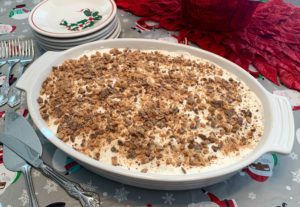 This recipe is my version of the classic cake from the 1970's. You can, of course, use frozen whipped topping. I think whipping fresh cream is totally worth the effort.
For the cake:
1 (15.25-ounce) dark chocolate cake mix
1 (14-ounce) can sweetened condensed milk
1 (12.25-ounce) jar caramel sauce
For the whipped cream frosting:
1½ cups heavy whipping cream
3 tablespoons confectioner's sugar
½ cup English toffee bits, to garnish
Bake cake in a 9×13-inch baking dish, according to package directions. Cool completely. Using the end of a wooden spoon, poke holes all over the cake. Pour sweetened condensed milk evenly over the cooled cake. Wait 15 minutes. Pour caramel sauce over the cake. Wait 15 minutes. In the meantime, whip heavy cream until it forms stiff peaks. Add confectioner's sugar and beat for a few second more to incorporate. Frost cake with sweetened whipped cream. Garnish with ½ cup of English toffee bits. Cover and refrigerate for at least 2 hours before serving. Serves 12.