Beaufort teacher Josefina Blanc discusses her native country of Chile – why she loves it, why she left it, and what she's doing to help it, post-earthquake.
The first thing you notice about my friend Josefina Blanc is that she looks more like a big city fashion model than a small town Spanish teacher. (We're talking really tall and really gorgeous.) The next things you'll notice are her sultry South American accent, her marvelous sense of humor, and her formidable intelligence. And despite this enviable embarrassment of attributes, you'll find her impossible not to like.
Josefina, who lives in Beaufort with her husband and young son, and teaches Spanish at Battery Creek High, grew up in Santiago, Chile. Most of her family is still there. Though she left the beautiful, volatile country over a decade ago, it is still very much at the heart of who she is. Josefina spoke with me recently about her childhood, the complicated country she loves and left, the day the earth shook (again), and what happens next.
Josefina, when and why did you leave Chile?
I left in November 1998, days after Augusto Pinochet was arrested in the UK for human rights violations. The reason I left is not unrelated to that event. After growing up in a military dictatorship, I realized that it would take my country decades to recover socially and politically. I felt a bit impotent back then, I wanted to live my life in a less restrictive way, so I left the country in what I often call a self-exile, to see if I could find a wider range of opportunities and experiences in New York City, where I lived for 10 years.
Most of your family is still in Chile, correct?
My father, sisters, nephew and nieces all still live in Santiago, the capital. That's where we were born and grew up. My brother lives in Austin, TX, but he is only there for his PhD, and will soon return to Chile.
Whenever you speak of your childhood in Chile, I sense conflicting emotions…
Growing up in Chile was a wonderful mix of experiences. Given that my mother was Argentine, half of my family still lived and lives on the other side of the Andes, so we had a very diverse childhood, compared to most Chileans, but also a very "Southern Cone"-oriented one; everything happened for me between the different accents, oceans and those gigantic, shaky mountains. Growing up in the late seventies meant that I grew up in a military dictatorship. I always share the tale with my friends that until I turned 15 or so, I thought Pinochet, Ronald Reagan and John Paul II had always been in charge of the world. I say this as a symbol of what the prevalent culture was in my community: capitalist, ultra-conservative and Opus Dei Catholic. Due to its geographic location, Chile was also a very isolated community. For instance, I never met an African American in person until I turned 18 years old and traveled to Chicago. Also, Chile was the last country in the world to legalize divorce, in 2006. But you had the best of that culture, as well: strong families, old traditions, reliable institutions, and social order (which is not a minor achievement in Latin America).
Speaking of which, Chile has had such a volatile history. How were things shaping up there before this tragedy?  How big a setback will it be?
It will without a doubt be a huge setback in the social arena. Since Pinochet left power in 1989, the center left has invested twenty years and billions of dollars in social policies and infrastructure that were profoundly affected over the course of 2 and 1/2 minutes. This sets back education in rural areas as well as national and international commerce, which is highly dependent on modern highways bridges, ports and airports. As you may know, Chile's largest export, copper, was immediately affected; even though the mines are mainly in the north (away from the epicenter), the price went up considerably within the first few hours of the day. That's just a small example, but the scale of the human and material damage escapes our ability to describe it. Like the earth, there are infinite layers, emotional and physical, that will be very hard to reconstruct.
I can't imagine the anxiety you must have suffered the day of the earthquake! I assume you couldn't get in touch with anybody for a while…
My friend Cabell woke me up with a phone call telling me there had been an earthquake in Chile, to which I sweetly replied, "Oh, not to worry, they happen ALL THE TIME." He said it had been a pretty serious one, and then I became very worried. I lived through the 7.5 earthquake of 1985, and it had been the last extremely damaging one, so I knew that if it had made the news in Beaufort, SC, it was probably really bad news. But I never imagined it was an 8.8! I couldn't reach anyone by phone, and since I'd just moved into a new home, I didn't have cable or Internet access. So I went to the coffee shop to use theirs. As soon as I got to Java City & News, I saw the earthquake all over CNN and the other channels, which didn't make me any more calm. I waited there and heard from my family that they were OK before noon. Nonetheless, it took me a good 12 hours before I realized the scale of the quake that had hit them in Santiago. I just assumed Santiago hadn't been hit hard when I found out that the epicenter was so far down in the south, but the reality is that it was a massive earthquake in 80% of the country.
According to estimates, over 500,000 homes were lost or badly damaged in the earthquake. You have set up a fund to raise money for your personal friends who are among that number. Are there many?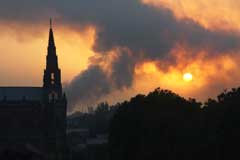 I have three friends who lost their homes, but one couple in particular, in Talca, is probably the most affected, since this was one of the worst hit areas in the region. Many of their friends and acquaintances are also homeless, and electricity and water services hadn't reached them yet after a week. They have found someone to stay with by now and they are just grateful to be alive. One of them is a dear friend of mine, an artist, whom I grew up with since birth; we are the closest thing to siblings there is. It is particularly sad that he lost his home because he had just gotten married last December, so he was just getting started. (Plus, I keep thinking about how much it sucks to lose all of those very helpful wedding gifts, etc.)
How have your own family members fared?
Very well, but still going through the shock and the fear of the constant replicas, and the profound sadness of their many friends and acquaintances who either lost their homes, their lives, or the lives of their young children. But it is true that what doesn't break you makes you stronger. I am so proud of the Chilean people, we are truly made of steel, and we still have the very old school value of solidarity. We are a famously poor nation (no matter what you hear on TV) with a very sneaky streak. You might have heard about all the looting that was going on within 10 hours of the quake? People panic and take advantage of the situation; they were even stealing flat screen TV's!  But also last Friday, when we had a national Telethon, not only did they double of their monetary goal, but a huge number of looters started returning the stolen goods… I mean, that is Gabriel García-Marquez kind of stuff! Only in Chile.
Chile just inaugurated a new president, Sebastian Piñera. Not exactly a "soft opening" for his presidency! Do you think he's got what it takes to manage this crisis and get the country back on its feet?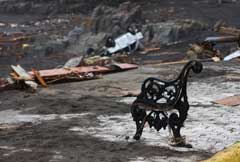 Absolutely. He is a center-right politician and also one of the most aggressive impresarios the country has ever seen. If there is a spirit of entrepreneurship, he is one of the people who best embodies it, for better and for worse. Crisis is never a good time to play politics, but if I were to point anything out, it would be that he called immediately that Saturday morning to President Michelle Bachelet to take the Armed Forces on the street to maintain civil order. It took her 48 hours to make that decision instead, and the military only arrived in small numbers on Sunday night. We all suffered the consequences of that delay. She was probably trying to be wise, since Chile has such a painful history with the military, but she had no political risk in making this decision, being a socialist president who was one her way out, the daughter of an ex-tortured military man, and the Secretary of Defense, herself, for a whole term. Piñera and Bachelet both showed their character with these gestures. It is my suspicion and my hope that the new president is the kind that will think with efficiency and the reconstruction of the people and the economy in mind, above politics (if not beyond).
So, how can our readers help you help your friends in Chile?
People can donate online through PayPal (by clicking HERE) or by joining my Facebook group called: "CHILE: help me raise funds for my homeless friends after the earthquake." They may also contact me at josefinablanc@mac.com about sending a check. If they would rather give an institutional donation, please support http://www.untechoparachile.cl/. It is a very efficient and legitimate organization that has been around for years in Chile fighting poverty. They are building houses for the hundreds of thousands of homeless right now. I just chose to help directly the ones I know.
Editor's Note: Kim Cech of Yoga Chandra has also generously offered to donate the proceeds of her March 20th event, Awaken!, to Josefina's cause. For more information about that event, go here.

Photographs of Talca, Chile by Hector Labarca Rocco