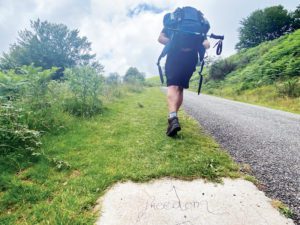 Backpacking has a way of getting people talking about serious things in an ordinary way and talking about ordinary things in a serious way. Conversation on the trail wavered between questions like, "Did you really think you were going to die when you found out you had cancer?" and, "How do you make the perfect boiled egg?"
Then, long stretches of silence. Miles pass while you're lost in ruminating thoughts and the big questions in your life. Sometimes you think about absolutely nothing. Blank like the blue sky above. The mind tends to mirror its surroundings when outdoors long enough.
This cadence of conversation is especially true when you're walking a long time in a place you don't recognize. There we were one day, me and my dad, at the top of the Pyrénées Mountains in France. Clouds clinging to the valley thousands of feet below as we marched in the periphery of Basque shepherds, grazing sheep, and pilgrims. Must make it to Spain. Two thousand feet of elevation gain and 11 miles today. Nothing to do but put one foot in front of the other on the Camino de Santiago de Compostela.
Before he was diagnosed with cancer in 2020, my dad had a dream of one day doing this "Camino," a medieval pilgrimage in Europe. It stretches roughly 500-miles, depending on where you start, and ends in the Galicia region of northwestern Spain.
"Camino is a history. A history of people that had to go through demons," my dad said one evening on the back porch back of his house in the Lowcountry. "They had to get rid of their demons. They had to suffer. They had to think. They had to come up with a solution."
"Why do you want to do it?" I'd asked him. "Didn't you suffer enough?"
He paused, looking out over the marsh for a while before answering: "I live. I could be dead. I've got no demons. I got sick last year, and I want to thank someone. I don't know who. I want to just pay the price for balancing it out. You can't just take and not give. So, it's my time to give, I guess."
Every pilgrim has a different reason for hiking the Camino.
Emmanuel from France takes a two-week break from her family every summer to hike a new section of the Camino before she goes back to work teaching. Mae from Taiwan is carrying the prayers of family, friends, and strangers. Patrizio from Italy, well, we don't know his story because he only speaks Italian, but we see him go to mass in the old cathedrals. We bump into the same people over again on the trail, people we met from around the world on The Way. My dad survived cancer. That was reason enough for me to join him this summer in beginning the trail.
We started in St. Jean-Pied-de-Port, France, considered by many to be the official start of the Camino. The day we arrived we checked into the pilgrims' office up the narrow, cobblestone street at the heart of the old village. We were given maps, directions, and our "passport," a booklet in which pilgrims of the Camino collect stamps at each town along the way to track their progress. We wanted to play along.
I donated a few euros in exchange for two Saint-Jacques scallop seashells. The shell is the symbol of the Camino de Santiago, often found on the trail markers that guide you. Once upon a time pilgrims would collect a scallop shell once they arrived to the sea at Finisterre to prove they did the Camino. Nowadays people put them on their backpacks to show that they're on pilgrimage.
A waitress sees my shell and asks if I'm hiking the Camino in French. I tell her yes. She leaves and brings me back a small slip
of paper with a handwritten prayer and asks that I carry it to the sea. I accept, not knowing how I'll get it there until I meet Mae from Taiwan the next night at dinner.
For my father and me, this trip was a trial run to prepare for the long haul another time. What would we wish we had with us or know that we didn't know beforehand? Our plan was to hike the 16-mile stretch over the mountains to Roncesvalles, Spain in two days, and then come back to France to be with our family.
What we hadn't anticipated (apart from a few gear mishaps) was that the best way to go was with no reservations. The next little village or albergue (Pilgrim hostel) to sleep in was often no more than a couple miles away. And with that realization, we ditched our original plans and decided that second day winding up the Pyrénées that we would keep going another 50 km until we reached Pamplona, the Spanish city famous for its Running of the Bulls festival.
This peace of mind meant we could truly go at our own pace. We could document wildflowers like incarnated botanists, sit down for a caféwhen we needed a mid-morning boost, talk to a shepherd selling cheese in the middle of nowhere. Every decision thereafter was spontaneous, and I watched my father come alive. We crossed through the countryside and the small, medieval villages of the Basque Country never knowing what was coming next.
The only thing we knew was coming at the end of a day after the Spanish sun beat down on us and our calves felt like cement was a cold beer or a Basque cider. Unlike most through-hikes and backpacking routes, a shower, a bed, and Europe's finest wines and culinary delicacies await you each evening. Imagine after 14 miles of hiking, tapas galore and restaurants with legs of cured ibérico ham swaying overhead as you sip Rioja and wait for your grilled lamb dinner to share. We lived it up like nothing lasts forever. Because nothing lasts forever.