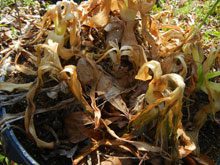 I'€™m still discovering damage to the garden from the serious cold spells and nasty freezes of the last weeks, in both the farmstead garden inland and in the garden on the water in Beaufort County. After all the earlier damage I had found, each new discovery stabs at the heart just a little deeper and makes the dreary cold we always get in February frightening to contemplate.
I usually try to convince myself to act responsibly when I consider winter'€™s challenges, which means writing yet another article for one of my outlets on wise garden management practices: patient waiting for most pruning, sensible protection for surviving plants, preparation and care of garden tools and machinery for when they'€™ll be truly needed again, etc.
The truth is that I will instead be much more likely to do everything I can to avoid those issues. Daydreaming seems much more rewarding right now, as I contemplate lush green growth in spring, bountiful harvests of homegrown goodies, gorgeous blooms from a beautifully tended garden -€" and I won'€™t likely be bothered by realizing that these dreamy rewards will come only from implementing those very garden management practices I am so studiously avoiding.
Oh, well! I might as well look once again through the magnificent pages of these eight nursery catalogs I have sitting right here beside me. And I'€™m starting to get notices for some pretty interesting seminars and classes and meetings and other events, opportunities to hone my winter-calcified skills and to become a much better gardener and teacher.
All my freeze-damaged plants are painful reminders of how important it can be to select plants for the garden which are truly suited for the climate and setting where they are intended to grow. But can you trust your local big-box store to know which plants are going to have a decent chance to grow in your garden?
I will often experiment with pushing boundaries, attempting to grow plants – often fruits and vegetables -€" which are not really adapted to the severe summer heat, cold, wet winters, and shortened dormancy of the coastal SC climate. Even in the inland garden, perhaps a half-zone cooler than the coastal one, is very hard on things like apples. I've tried apples, supposedly varieties adapted to warm climates, and in twelve years succeeded in picking and eating two fruits.
What if I were to concentrate on growing fruits suited for the climate? What would they be?
The plantsman/garden designer/horticulturist, Jenks Farmer, is having a home fruit-growing event at the family farm and nursery near Augusta on April 21. Try this link online (https://jenksfarmer.com/event/figs-friends-growing-harvesting-and-eating-from-your-own-backyard-orchard/), or call 803-386-1866.
If you want to push limits just a little and try growing your own citrus, the man to see is Stan ("€œthe Citrus Man"€) McKenzie, whose nursery and citrus farm near Lake City/Olanta on the way to Myrtle Beach from Sumter has long provided inspiration and trees for aspiring citrus growers. Stan and his family maintain a Facebook page (McKenzie Farms Nursery) and have started many a Carolina citrus grower on their way. Their phone number is 843-389-4831.
I think most commercially-available tomatoes are so tasteless and unpleasant they are not worth using. Far too many superb fresh foods have had their best qualities (for eating, anyway) bred out of them. If you want to keep up with some of the most exciting developments in restoring lost food tastes, try connecting on Facebook with Dr. David Shields, whose contributions in saving and reintroducing Carolina Gold Rice, Sea Island Red Peas, Jimmy Red Corn, the Bradford Watermelon are legend. Gradually, some of these fine tastes are being made available to home gardeners.
And one of the most inspiring sources for some of these and other superb varieties for the
garden is the glorious catalog released annually by Baker Creek Heirloom Seed Company. Their website is www.rareseeds.com and their address is 2278 Baker Creek Rd, Mansfield, MO 65704. This is one of those catalogs that will keep you occupied for hours at a time, for weeks each winter.
Beaufort has one of the most successful Master Gardener programs in the state, and the extensive 40-hour course is offered several times a year in several locations in the Lowcountry. The course is superb for developing gardening skills and knowledge, and it demands of its students that they develop practical knowledge and put it to use for public benefit. Maybe the best part of the course is developing connections and friendships with other Master Gardeners -€" or maybe the best part is getting to know the wonderful teacher, Laura Lee Rose.
The Master Gardener course is taught through the Clemson Extension Service, and you can call for course schedules and costs at 843-255-6060, extension 117. Be aware that the Extension offices have recently moved close to the county early-voting offices; they'€™re now at 18 John Galt Rd in Beaufort Industrial Village, out near Lowe'€™s.
Unlike most gardeners I know, who are among the most generous and open people on earth, I tend to be a pretty selfish son-of-a-beech. If I find a rare or unusual garden plant, I just might not share a cutting or a pup. When I come across an absolutely incomparable source for materials or supplies, well, it might just not get into my conversation with you. And magnificently gifted teachers whom I meet in my perambulations -€" I like to think I am protecting them from becoming overexposed when I don'€™t get around to mentioning them to every Tom, Jane, and Narcissus with a trowel and a bag of Black Cow.
Perhaps, then, if I manage to drop an interesting name or mention a contact or pass along an upcoming event, you'€™ll know how meaningful those suggestions actually are -€" to me, at least, and possibly to another gardener who finds a moment to follow up. Good luck on finding your own way for surviving the February blahs.