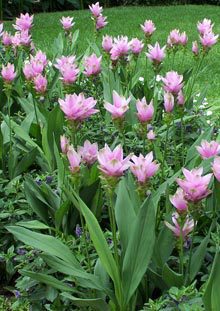 Some people stop for museums, others stop for beaches, restaurants, gift shops or those devious mountain overlooks that just beg you to pause; it is hard to pass them. My car brakes for gardens.
My friends would describe me as a garden geek – or nerd if you will, I can't help it, I love seeing public and private gardens and I have a routine depending on the direction we are traveling. Those other attractions are nice, but heck, for those of us lucky enough to live in Beaufort, who needs them?
As I write this I am riding in a car on my way to Asheville, North Carolina, ostensibly to see my son's new home. My wonderfully understanding spouse knows better however; there will be a number of botanical side trips. This area is home to some of my favorites. The 434-acre North Carolina Botanical Garden is always first on my list. They have 65 acres cultivated in gardens providing lots of ideas for the home gardener.   There is no admission fee if you walk in, but there is a parking fee of $8 per car. Currently there is an exhibit based on Amy Stewart's book "Wicked Plants: the Weed that Killed Lincoln's Mother and Other Diabolical Botanicals." Experience these wicked plants first hand without harm through September 3rd.
The Asheville Botanical Garden is a downtown gem. There more than 600 species of Southern Appalachian plants grown in their native habitats, ranging from sunny and dry to shady damp locations. Admission is free but donations are gladly accepted.
One location I won't stop at on this trip is the Biltmore House Gardens and Conservatory. The gardens, which date to 1895, were designed by America's premier landscape designer Frederick Law Olmstead, and maintained in the original plans, range from the formal parterres to serene woodland walks.   Sadly, you cannot just visit the gardens but must pay the full admission, which includes the whole shebang: the mansion, restaurants and winery. At $59 to $64 depending on the day of the week, I'll pass on that one this time and visit when I have more time to explore (and more money).
Next up will be a trip to the Longwood and Chanticleer Gardens in southeastern Pennsylvania in mid-September. Yes, we have family in the Philadelphia area that we are supposed to be visiting, but you know how that goes. Once the hugs are over and I have cuddled my new great nephew for a while, I'll be off to re-visit gardens.
Longwood, on land that was first planted in 1700, was created mostly between 1906 and 1930. There are formal gardens, a conservatory to die for that includes an orchid house with flowers in a rainbow of colors, woodland gardens and acres of test gardens showcasing the latest and greatest of plant introductions. Their large water garden features many different water lilies and lotus, all well labeled so you can pick the perfect one for your own pond. Last time I was there a long bed of Siam Tulips, Curcuma alismatifolia, in their conservatory caught my eye; that is an idea that could be utilized outdoors here in the Lowcountry. Admission ranges between $15 and $25 depending on the season.
Chanticleer, on the other hand, is as wildly beautiful as Longwood is formal. Often described as romantic, imaginative and exciting, it is a pleasure garden that should not be missed if you are in the area. I could spend all day there just wandering through the different vignettes. It is playful but there is nothing tacky about the understated beauty. You will see the rarest of plants interspersed with those more common; even some we think of as 'weeds' are showcased beautifully. I certainly wish I could make my weeds look good. You might see a bamboo culm painted in a bright color; there is a surprise around every corner. Admission here is a modest $10, surprisingly low for a garden of this scale.
Closer to home, the Riverbanks Botanical Gardens outside Columbia are a perfect day trip, as are Brookgreen Gardens on Pawleys Island. I am constantly surprised to hear of locals who have not yet visited the famous gardens of Charleston, Magnolia and Middleton Place. What better way to entertain those snowbird guests in winter than by walking through thousands of blooming camellia bushes, some as large as a house.
The Bamboo Farm, a University of Georgia Research facility on Hwy. 17 outside Savannah will be holding their Fall Festival October 13 from 9 to 4. They specialize in cold tolerant citrus and bananas (which will be for sale that day) but they have beautiful display gardens to stroll through also. And it is FREE.
Did you watch the PGA tournament held at Kiawah Island recently? On Sunday, October 21, the Charleston Horticultural Society will hold its annual fall tour of gardens. They pick a specific neighborhood each year and this year it will be held at Kiawah. What an opportunity to see outstanding gardens on what is considered one of the most beautiful islands in the country. Admission is $35 and tickets can be purchased from the Horticultural Society Office by calling (843) 579 9922 or they can be purchased the day of the tour, held rain or shine, at Freshfields Village, the shopping village just outside of Kiawah.
Have you tired of the muggy dog days of summer? Visit a garden! They are refreshing, inspiring and energizing. I don't know about you, but I could use all of those right about now.