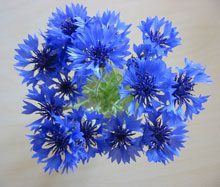 This time of year, if you are driving into the little town of Allendale not too far inland from Beaufort, you might be surprised at the abundant blue, pink, and white flowers growing wild along the railroad tracks for about a quarter mile from the town's main stop light. There are hundreds and hundreds of them, appearing every spring to brighten an otherwise industrial setting.
These are old-fashioned Bachelor's Buttons, Centaurea cyanus, an annual which comes up from seed spread each year. It's a native of Europe, but has so successfully adapted to our different world that they've become naturalized in a number of settings.
For an even more dramatic show of Bachelor's Buttons by the wild roadside, head on up through the Bomb Plant (newcomers seem to call it the Savannah River Plant) toward Beech Island. Along Highway 78 east of Beech Island, near where the giant TV towers dominate the skyline, in the community called Spiderweb, the highway is lined with a profusion of Bachelor's Buttons that will knock your socks off.
As a child, along with my four siblings and our parents traveling in our 1956 Ford station wagon to visit grandparents, I was awestruck by gigantic clumps of jungle canes, maybe twenty feet high, along the highway or railroad. Nobody in the car knew what they were, and I had to dig and research and question anyone I could find to learn what this amazing plant was. It took many months and the help of the Bookmobile, which visited our rural location every two weeks, but eventually I was able to identify Arundo donax, the Giant Reed. Just being able to say the name out loud pleased me, but even greater was the pleasure of having spied something new and mysterious; learning how to identify it, to know its origin and habit, made it my Arundo donax.
It was those rides in the car, those adventures to new places, which would set my mind spinning with the need to discover even more, to find things beyond my existing experience. And it is those rides in the car – even to this late day – that provide discoveries about the natural world, the plants and wildlife which still constantly amaze me. At first it seemed bizarre – that this totally artificial and intrusive highway landscape, of ditches and concrete, fast cars and roadkill, would offer such a rich and varied introduction to the natural world.
Among the reasons, of course, is that highways provide one of nature's most diverse and populated ecosystems available – ecotones. They mark a transition between natural ecosystems. A natural forest, for instance, may sharply become a shrubby or grassy edge, which in turn may transition onto a wetland environment at the ditch. Such ecotones become ideal settings for plants to settle – often plants unusual in the larger environment surrounding the highway. Similarly, wildlife can often find shelter in one environment while seeking abundant food in the other. Making the diversity of plants and animals even greater, the open roadway offers a path for completely alien species, perhaps from hundreds of miles away,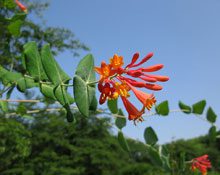 walking along or hitch-hiking on vehicles; and – if the environment is suitable – such a new species may thrive and even become a pest
Only recently, the road to my little retreat in northern Beaufort County was being widened and paved. It was obvious that the ditch on either side would have to be re-dug and adjusted; and, being a ditch, such a change shouldn't cause much concern. At one point, however, next to an old fence post at the edge of the ditch, a large rambling vine of the native red-blooming honeysuckle – Lonicera sempervirens – had grown for years. It would be destroyed when the ditch digging equipment came; and, although it is not endangered as a species, certainly this one tough little survivor would be sacrificed to progress. I stopped one day when I saw the big machines approaching, got out, and quickly dug a small portion of the huge plant to take home and nurse back to health in a new spot. Happily, it began blooming for me within a month. There's not a sign of the original mother plant anywhere along the road.
By the way, removing plants from the wild is not a good practice in most cases. Most will die before they get replanted. In the case of such destruction of habitat, however, rescuing such plants may be permitted.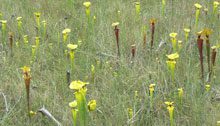 Several years ago I was traveling along US278 in Hampton County, along a section that was largely high and dry, but the ditches had been wet in late winter and early spring; they sloped toward the Coosawhatchie swamp a mile or two away. A glance to my left offered something unmistakable: a dozen tall bright pitcher plants growing in a clump with several taller flowering stems in a bright yellow.
I had never encountered them in the wild, and here was a whole clump of them! I drove along, slowing down a little, spotting more clumps. For a half mile, on both sides of the highway, I spotted thousands, two feet high – higher for the hundreds of bloom stalks – in varied shades of green and yellow and in unbelievably dense clumps. I could hardly breathe.
Two weeks later, I traveled the same road to find the highway department had mowed the roadside; there was not a single pitcher plant left, which I had learned in the meantime was Sarracenia flava – the yellow pitcher plant. I have traveled that way many times now in the ensuing years. I have never spied another pitcher plant.
And only this week I was able to learn the identity of another little jewel which appears this time of year in Barnwell County beside the highway near the old family farm in the suburbs of the thriving metropolis of Elko. For years, these lovely little white flowers have appeared by the million, poking through the grasses and weeds in the mown right-of-way, oblivious to the noise and pollution of the heavy traffic passing by.
The little flowers appear in a group, three to six at a time, usually, at the end of an eight-inch-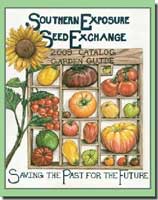 tall stem. The leaves are insignificant – to the observer, if not the plant – but grasslike. I finally stopped the car the ofew feet, and snapped a quick picture to send to my always-reliable, ever-fathful guru, Danny Payne of the native plant nursery, Naturescapes of Beaufort. Danny knew the plant immediately – American False Garlic, Nothoscordum bivalve. Danny says it's pretty rare on the coast, but he does grow it for his nursery.
There are, it turns out, limitations to how detailed a view of roadside plants can be gotten at sixty miles per hour. Sometimes, stopping to smell the roses is necessary.
The last photo of False Garlic is taken by the author; all the other photos are derived from Wikimedia Commons.