It's hard to imagine now, but when I was a kid just about the only people to encounter a wild turkey were lucky hunters in some South Carolina national forests. The first time I saw a real live wild turkey was in my twenties as I looked out my window on a train speeding through the Salkehatchie swamp.
Deer, too, were uncommon. The first deer I ever saw in the wild were on Hilton Head Island in the late '50s just after the first bridge to the island was built.
As a child, along with my four siblings and our parents traveling in our 1956 Ford station wagon to visit grandparents, I was awestruck by gigantic clumps of jungle canes, maybe twenty feet high, along the highway or railroad. Nobody in the car knew what they were, and I had to dig and research and question anyone I could find to learn what this amazing plant was. It took many months and the help of the Bookmobile, which visited our rural location every two weeks, but eventually I was able to identify Arundo donax, the Giant Reed. Just being able to say the name out loud pleased me, but even greater was the pleasure of having spied something new and mysterious; learning how to identify it, to know its origin and habit, made it my Arundo donax.
It was those rides in the car, those adventures to new places, which would set my mind spinning with the need to discover even more, to find things beyond my existing experience. And it is those rides in the car – even to this late day – that provide discoveries about the natural world, the plants and wildlife which still constantly amaze me. At first it seemed bizarre – that this totally artificial and intrusive highway landscape, of ditches and concrete, fast cars and roadkill, would offer such a rich and varied introduction to the natural world.
Among the reasons, of course, is that highways provide one of nature's most diverse and populated ecosystems available – ecotones. They mark a transition between natural ecosystems. A natural forest, for instance, may sharply become a shrubby or grassy edge, which in turn may transition onto a wetland environment at the ditch. Such ecotones become ideal settings for plants to settle – often plants unusual in the larger environment surrounding the highway. Similarly, wildlife can often find shelter in one environment while seeking abundant food in the other. Making the diversity of plants and animals even greater, the open roadway offers a path for completely alien species, perhaps from hundreds of miles away, walking along or hitch-hiking on vehicles; and – if the environment is suitable – such a new species may thrive and even become a pest.
Only recently, the road to my little retreat in northern Beaufort County was being widened and paved. It was obvious that the ditch on either side would have to be re-dug and adjusted; and, being a ditch, such a change shouldn't cause much concern. At one point, however, next to an old fence post at the edge of the ditch, a large rambling vine of the native red-blooming honeysuckle – Lonicera sempervirens – had grown for years. It would be destroyed when the ditch digging equipment came; and, although it is not endangered as a species, certainly this one tough little survivor would be sacrificed to progress. I stopped one day when I saw the big machines approaching, got out, and quickly dug a small portion of the huge plant to take home and nurse back to health in a new spot. Happily, it began blooming for me within a month. There's not a sign of the original mother plant anywhere along the road.
By the way, removing plants from the wild is not a good practice in most cases. Most will die before they get replanted. In the case of such destruction of habitat, however, rescuing such plants may be permitted.
Several years ago I was traveling along US278 in Hampton County, along a section that was largely high and dry, but the ditches had been wet in late winter and early spring; they sloped toward the Coosawhatchie swamp a mile or two away. A glance to my left offered something unmistakable: a dozen tall bright pitcher plants growing in a clump with several taller flowering stems in a bright yellow.
I had never encountered them in the wild, and here was a whole clump of them! I drove along, slowing down a little, spotting more clumps. For a half mile, on both sides of the highway, I spotted thousands, two feet high – higher for the hundreds of bloom stalks – in varied shades of green and yellow and in unbelievably dense clumps. I could hardly breathe.
Two weeks later, I traveled the same road to find the highway department had mowed the roadside; there was not a single pitcher plant, which I had learned in the meantime was Sarracenia flava – the yellow pitcher plant. I have traveled that way many times now in the ensuing years. I have never spied another pitcher plant.
In recent years, I have been trying to solve a perplexing plant ID problem every autumn when I cross into Hampton County on SC Highway 68. When the goldenrod comes into full bloom, there are certain areas that provide brilliant, startling exclamation points of yellow in plants amongst the goldenrod. These are spikes, pencil-thin, in the same golden yellow as their companion plants. Even at sixty miles per hour, they stand out.
For years, I tried to guess their identity. Simultaneously flowering with goldenrod, perhaps it was some unusual kind of goldenrod; but my wildflower books offered me no help there. Then, again at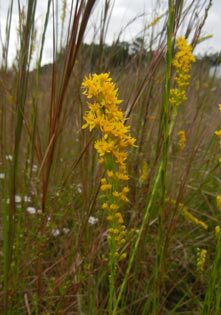 60mph, I thought I could identify some unique characteristics that marked these plants as monocots, very different types of plants from the dicots such as goldenrods. I even decided that it might be some kind of flowering bulb, employing my high-speed ID skills. This frustrating search went on for fall after fall, and I never quite got around to stopping and actually looking at the plant.
Until last fall. Outside of Yemassee, I spotted a large stand of these spiky beauties beside the road. I pulled over, got out my little camera, and began to examine and photograph the plants. Very quickly I saw that they were dicots, not monocots. A close look at the tiny yellow flowers aligned along the tall spike showed they were identical to the individual little flowers of the nearby goldenrod. Its small leaves were held erect and clung close to the vertical flower stem.
Finally! It's Solidago stricta, the wand goldenrod, rarely offered by nurseries, but a glorious fall flower indeed!
There are, it turns out, limitations to how detailed a view of roadside plants can be gotten at sixty miles per hour. Sometimes, stopping to smell the roses is necessary.