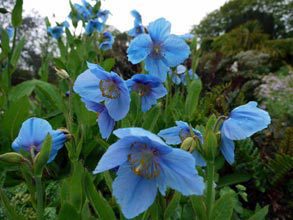 (pace, Miles Davis)
In most temperate and tropical climates, green – rich, dark, delicate, dappled green – is the default color. It is the color which signifies a plant's healthy relationship to the sun, the soil, and the water. Other colors are introduced most often as the garden plants go about trying to reproduce. Whites, reds, yellows, pinks, and purples are gloriously placed against that textured backdrop of green.
Blue was not among that lot of colors, although all of us know some blue flowers. I might even go so far as to say that a truly blue color is among the least common and most loved of all the colors in the garden; gardeners often push the limits of hardiness and culture to try to have a particular sought after blue color.
Virtually any gardener in the world, seeing for the first time the astonishing pure color of the Himalayan blue poppy (Meconopsis betonicifolia), will decide on the spot to move heaven and earth to acquire and grow it. And, in fact, some gardeners around the world find they are able to grow it. They are, however, not growing it in the Lowcountry. Most gardeners recognize that this native of the Himalayas certainly will fail in our hot, humid climate.
There are, though, some beautiful blue plants which can do well in our climate. I think of plumbago, both Dwarf Plumbago (Ceratostigma griffithii) and regular Plumbago (Plumbago sp), whose blues range from pale to mid-blue, and whose height makes it a handsome low plant for the front of the garden. The late summer bloom of the dwarf variety makes for a striking contrast to the red fall foliage. Amsonia (Amsonia hubrichtii) is a native perennial with feathery leaves and clouds of pale blue flowers. In the fall, the feathery branches turn a brilliant, fiery gold – glorious!
The southern African bulb commonly called Lily of the Nile (Agapanthus) sends up tall bare stems above its handsome strap-like foliage. At the top of this flower stem explodes a starburst of blue flowers, from the palest almost-white to a dark and mysterious storm cloud color. Another spectacular native plant is the False Indigo (Baptisia australis). Its latin name – "australis" – denotes that it was found in the southern part of North America, not that it is from Australia. This very showy garden plant has several great spikes of brilliant blue flowers on each plant. Gorgeous.
Other blue-flowering plants for our gardens are Hydrangeas (remember that a low pH encourages the blue coloring in hydrangeas; make sure your soil is sufficiently acidic to keep them from flowering pink), gentian (Gentiana sp), ajuga, caryopteris (be careful, though; many caryopteris do quite poorly in our climate, but there are some varieties which are definitely adapted to our heat), salvias, bachelor buttons (centaurea), hyacinth, lobelia. There's no reason to be without blue in the garden, and there are many flowering plants to provide a wide selection .
That wonderful cooling effect that blue provides the garden does not need to derive from blooms alone. Consider choosing plants with blue foliage.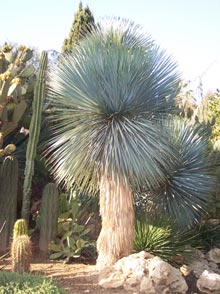 Yes, yes; I know: "blue" foliage isn't really blue. It's usually a gray-green, perhaps with a bluish cast to it. Chlorophyll – that miracle chemical that makes leaves a factory for living – doesn't have blue pigment. It's all green. Nevertheless, leaves manage to overcome this monochromatic situation with all sorts of alternative measures to produce red, purple, yellow, cream, white, and – yes – even blue foliage.
My wonderful friend Chris gave me a handsome little "cedar" tree some years ago, not a true cedar but an evergreen Christmas tree type. Now eight feet high and five wide, this beautiful Arizona cypress (Cupressus arizonica) is strikingly silvery blue and marvelously hardy in our heat and humidity. Called "Carolina Sapphire", this gets more dramatic in the yard with each year.
There are many hostas with blue foliage, many with "blue" in their varietal names: "Hadspen Blue," "Blue Colossal," "Blue Mouse Ears." There are many other blue-leafed hosta cultivars with just as handsome presentation, but without "blue" in their names.
Of course, there are a great many other blue-leafed garden plants: a number of yuccas are quite blue; the sea-hollies (Eryngium sp) complement blue foliage with blue flowers; sedums; dianthus; dasilyrion; the list is long and rich with ideas. Many of these blue-leafed plants are also strikingly architectural in form, too, providing the garden with layers of interest and beauty.
There's no need for the gardener to feel blue about blue!