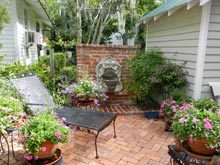 Ever notice how the perfect scarf or piece of jewelry makes a simple little black dress look outstanding? I was reminded of that this past week as I visited all five lovely gardens on the recent Garden-A-Day tours sponsored by the Beaufort Garden Club.
Each and every garden had several "accessories" that set it apart and made traditional plant material and the landscape designs special – special enough to have been chosen for this event.
In one beautifully proportioned sunny garden it was a lovely sitting area in a shady corner. You could just sit there taking in the colors of the well maintained borders filled to the brim with butterfly plants.
Visiting Linda & Fred Peter's whimsical garden on Lady's Island is always a treat. My own imagination
was in overdrive; can you just picture how exciting it must be for the pre-schoolers who are fortunate to attend Linda's school? They get to pretend they are in a rain forest, made magical with crystals, as they hike through the jungle, complete with live parrots and peacocks, on their way to their own secret corner with eight tiny swings hanging from an ancient Live Oak. There are even toadstools beside a hollow tree trunk. Do you think an elf lives in there? The garden is as large as Linda's artistic ability; there were special touches everywhere but nothing was overdone. Linda also grows roses that would make Martha Stewart green with envy.
Interesting personal items collected over many years made everyone stop and focus on the plant material and the design at an in-town garden. There is a knack to adding just the right piece, you want things to enhance rather than detract from the garden and this was an excellent example.
In a more formal garden it was a large planter at the end of a mossy path that drew your eye through a boxwood parterre. It was very quiet and elegant and emphasized the serenity of the shady location.
In the last garden, a large country place, the extensive area was made more intimate by the creation of several garden rooms under a grand canopy of outstanding Live Oaks. Here, nature itself was the emphasis and it was skillfully utilized to create pleasing views in every direction.
If you have an underappreciated area in your garden, think about how you can use an accessory to showcase the plant material; often something very simple will make the most ordinary plant look spectacular.