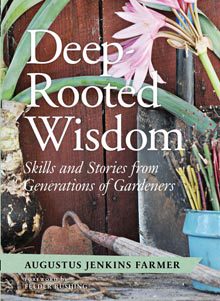 During one of my periodic compulsive explorations, searching out every bit of information I can track down about some new area of horticulture I don't know enough about, I expended many gallons of gasoline and trekked many miles of asphalt and dirt roads around the southeastern U.S. coastal states in search of the then-elusive crinum.
Pink or white or striped milk-and-wine, they reminded me of gargantuan amaryllis. In the formal gardens of The Castle, the huge brick antebellum mansion on The Old Point in Beaufort, I stood in awe beside giant strap-leaved examples of this great plant, topped by five foot tall scapes with a dozen spidery white flowers. I determined then that I'd figure out what this much varied bulb really was – and to try growing it.
At the time, the crinum had suffered from being quite out of fashion; few nurseries offered any varieties at all, and those who did usually had a single type at extremely expensive prices. Undaunted, I kept traveling and searching and reading, eventually building a modicum of knowledge of the plant.
In the summer of 1994, I was wandering the extensive grounds of The Tree Farm, at that time a large nursery in downtown Gainesville, Florida. I discovered they had several varieties of crinum available, and they actually knew the varieties' names and breeders. As I made my choices, the plantsman who was attending my visit said with some emphasis," You know, if you're in South Carolina and you're into crinums, you should have run into Jenks Farmer."
After that encounter it seemed that every crinum connection I discovered had already been well-plucked by Jenks Farmer. A year later, the Riverbanks Botanic Garden in Columbia opened to much fanfare and critical praise – often focusing on the extensive collection of crinums. Its founding director, I read, was a young horticulturist named Jenks Farmer.
Recently, I drove down another red clay road, past the entrance to old Governor Hammond's plantation near the Savannah River, straight through the ancient magnolia allée. Turning a corner, I came to a lovely two-story country house built in the 18th century surrounded by ancient trees and gardens. Behind the fine house, the old outbuildings protected chickens, donkeys, dogs, cats, and the paraphernalia associated with working an old farm. There were pecan trees, flower gardens laid out in loose, joyful style, and well worn paths to clothes lines and outbuildings and pens. And there were rows upon rows of exuberant colorful crinums growing in their own field.
This was the home of Gloria Farmer, the home where Jenks Farmer grew up, and the site of his now internationally-known nursery. I was there at the invitation of Miss Gloria, Jenks, and his partner Tom Hall, to meet other crinum enthusiasts and to enjoy a "crinum cocktail party." That genial and convivial group of children and elders, plant people and good-old-boys, ladies whose hands shovel dung and ladies whose hands rarely touch dirt – that group, I came to learn, was typical of the coterie always around Jenks.
Since his days scrounging crinum bulbs around the southeast, Jenks has done more than help lead the creation of the Riverbanks Botanic Garden. He has been central in the creation of another great botanic garden in the Pee Dee area of South Carolina; his lectures and presentations around the country are crowded at every stop; his articles and essays in numerous publications spread delight and excellent information about gardening conscientiously, the joy of plants, and the unmatched pleasure of turning depleted sites into healthy productive gardens.
Long a teacher himself and a compassionate advocate for working sustainably and with conscious regard for the health of the environment, Jenks has written a book – Deep-Rooted Wisdom: Skillls and Stories From Generations of Gardeners (by Augustus Jenkins Farmer; Timber Press; $24.95).
Most gardening books seem to fall into one of two categories: pretty books filled with photographs of unattainable gardens, or how-to tutorials on a particular technique or style. Jenks has done something rather different here. Deep-Rooted Wisdom urges a different way of thinking about gardening, of learning from one's forebears, of identifying valuable traditions which may work better in our technological world than modern approaches. And he does it with sumptuously beautiful photographs, with careful descriptions of how he came to learn a particular approach or technique, and with loving encounters with the old-timers and mentors who molded his perceptions and knowledge and skills. And with more than a touch of humor.
Deep-Rooted Wisdom isn't one of those woo-woo new age guides to nirvana-by-gardening. Rather, Jenks employs extensive scientific knowledge and methods in developing his approach to successful gardening. He brings the hard-won knowledge of dirty-hands gardeners you may never have heard of, and some other gardeners – similarly generous with their own earned wisdom – who enjoy world-wide reputations. All have played significant and deeply personal roles in Jenks's education. Such renowned gardeners as Felder Rushing, Ruth Knopf, Ryan Gainey – Frances Parker from Beaufort – and others contribute significantly to the book.
All this is complemented with magnificent photographs of plants and gardens, projects and pathways, flowers and creatures. A large format book, in paperback, it is the kind of book which leaves me hesitant to quote from it or describe it; the writing is beautiful, the ideas are substantial and feel right, the essential humane compassion and generosity of the man are evident in every paragraph.
"…wisdom used to be passed on seamlessly from older to younger gardeners, but that kind of knowledge transfer is being lost."
"I want to honor the people who have taught me and share their lessons, their charms, and their gardens with you. Gardening the way these…people did – and still do – often seemed to clash with the horticulture industry. But digging deeper, we find that academia, science, and industry actually validate these long-used practices. We can merge the old with the new, finding new joy in our gardens." (from the Introduction)
Deep-Rooted Wisdom, by Augustus Jenkins Farmer, is available from the usual sources online; directly from Jenks Farmer (http://jenksfarmer.com/product/deep-rooted-wisdom-by-jenks-farmer/); from your local independent bookstore (I confirmed that it was in stock at Beaufort Bookstore on Boundary Street); or from Timber Press (http://www.timberpress.com/books/deep_rooted_wisdom/farmer/9781604694529)