The music on the April 27th's program of USCB's chamber music series comes from four distinct periods and three unique outlooks: Baroque-era rigor and craft from Johann Sebastian Bach; World War II-era intensity and pathos from Dmitri Shostakovich; Classical-era grace and balance coupled with Romantic-era passion and self-expression in the person of Felix Mendelssohn.
Bach's Sonata No. 3 for Violin and Keyboard, a four-movement sonata da chiesa (church sonata) opens the evening's program. Baroque techniques such as fugue and passacaglia are handled with such ease and unforced mastery that one's attention is seduced by the sheer melodic beauty of the piece. Bach, a masterful performer on keyboard and violin, was keenly attuned to their potential and exploited both similarities and differences.
Dmitri Shostakovich lived through harrowing times, witnessing Stalin's regime annihilate millions of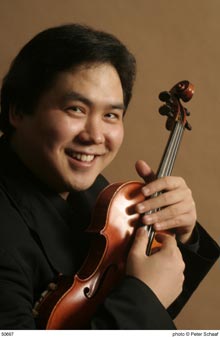 his countrymen followed by the Nazi Wehrmacht onslaught. By 1944, the course of the war was turning but deprivations had taken their toll. When one of Shostakovich's closest friends unexpectedly died, the shock of this loss coupled with further revelations of battlefield slaughter proved to be a powerful creative stimulus and he began composing a musical memorial, Piano Trio No. 2, Op 67. This haunting, sardonic, and deeply moving work combines Russian and Yiddish folk-tune melodies with forms Bach would recognize, such as the passacaglia. The mixture of old and new is combined to viscerally evoke emotions of loss, memory, and tradition.
Felix Mendelssohn's training and disposition were rooted in eighteenth-century classicism. A precocious talent with an elegant mind, he was a man of letters, order, and deliberate, clear thinking. His spirit and animation, however, was that of a forward-looking, nineteenth-century Romantic, displaying passion, interest in history, myth, equality, and self-expression. Piano Trio in d minor, Op 49 reflects major elements of both periods: soaring, lyric melodies are accompanied by simmering energy, satisfying conclusions answer every question and broad sweeps of emotion are handled with balance and elan.
After J.S. Bach's death, Baroque-era music fell out of favor. His genius was acknowledged only by composers and connoisseurs until Mendelssohn championed his reintroduction into the musical mainstream. It is fitting that Bach's skillfully crafted music is the starting point of a program concluding with Mendelssohn. Both Shostakovich and Mendelssohn studied Bach's counterpoint and distilled what they learned into newly expressive language and personal statements. This varied program, requiring emotional maturity and rock-solid technique, will be performed by three prize-winning, Juilliard-trained artists: violinist Yosuke Kawasaki (above, right), pianist Jeewon Kim (top, left), and cellist/host Edward Arron (left).
For additional information about the artists and program, go to www.uscb.edu/festivalseries. For tickets, contact Staci Breton at 843-208-8246 or sjbreton@uscb.edu. Tickets will also be sold at the USCB Center for the Arts beginning at 4 pm on April 27. Doors open at 4 and the concert begins at 5.