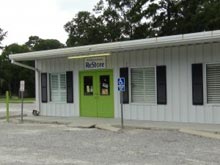 Editor's Note: This summer, LowCountry Habitat for Humanity's ReStore will celebrate 10 years in operation as the Beaufort area's "store that builds houses." LowCountry Habitat, the northern Beaufort County affiliate of Habitat for Humanity International, was founded here in 1990. The local Restore started officially in 2004. To celebrate this 10th anniversary, the Restore will hold an "Upcycled Art Auction" Saturday, August 23, at the Shed, 809 Paris Avenue in Port Royal. This is the site of the ReStore's former location. As a run-up to this event, Lowcountry Weekly will feature four articles – one per month – about different aspects of the ReStore. This first article explores the history of the local ReStore.
ReStore manager, Jenny Drake remembers, "The greatest challenge in the early days was doing pickups. Donors would call to give us a freezer or heavy sofa, and we had one staff person and no truck! Thank goodness, our generous volunteers quickly began coming to the rescue. We were soon able to purchase a truck and have been on the road ever since."
Indeed, the ReStore has been on the road, and been in business, for 10 years now, having officially opened its doors in July 2004. Actually though, Habitat began selling materials and supplies even before that. In December 2003 as a trial run of the ReStore concept.
The nation's very first ReStore was established in Austin, Texas, in 1992, two years after Beaufort's LowCountry Habitat affiliate was started. By 2003, planning was underway locally to begin a ReStore in northern Beaufort County. The idea behind ReStore is to provide Habitat affiliates another income stream for building houses, and, at the same time, act as a place where still useful building materials and supplies can be recycled, and "gently used" home furnishings, decorative items and the like can be resold to new owners, with the proceeds going to support the local affiliate's mission.
Barbara Thomas, Habitat president at that time, asked volunteer Cindy Stoothoff to write a business plan for a local ReStore. Stoothoff chaired a ReStore Development Committee that did research on the feasibility of opening this kind of retail operation for the local Habitat. They studied other nearby ReStores in Charleston, Johns Island and Bluffton.
Stoothoff, who later served on the Habitat board of directors, now lives in North Carolina. She recalls that the retail plan developed to the point of a "test market," selling building materials and supplies donated by individuals, contractors and businesses out of the crowded quonset hut Habitat warehouse on Burton Hill Road. This "pre-ReStore" was originally begun the first weekend of December 2003. Retail sales continued at the warehouse Fridays and Saturdays the beginning of each month through June 2004.
Stoothoff said that sales at first were modest but steady, around $500 a weekend, then gradually increased as word of the sales got around, and the weather improved. By January, it was already clear that Beaufort would support a ReStore if one could be opened; and Stoothoff and others were determined they would make that happen. But several things had to take place first.
One thing was finding a better building for a retail operation – a place of adequate size, security and location for shopping exposure, with some parking. The ReStore committee began looking in earnest for a building to rent, checking many places in Beaufort and surrounding locales. They finally settled on "the Shed" building on Paris Avenue, near the old port of Port Royal. It was an adequate sized building in decent condition, that had been used before as a theater for live productions, but had not been used in a few years. It was for sale, but not for rent. Stoothoff says she managed to convince the owners to rent the building to Habitat, and that agreement was signed May 15, 2004.
Weeks of work were required to turn the old theater into a good retail store. Dozens of volunteers began helping with cleaning, painting, building a rail on the stage area, installing new wiring, lighting and plumbing. The Habitat house building crew was between projects and available to do much work.
Milt Lawrence, who was Habitat's construction supervisor from 2004-2006, said the Shed was in a great location to attract shoppers, but was uninsulated and originally not well heated or cooled, so was "like an oven in the summer and an icebox in winter." The dark walls that worked well for a theater had to be painted with lighter colors so shoppers and staff could more easily find their way around.
One other thing that was crucial to the ReStore's success was hiring a full-time manager for the new project. Just as the Shed became available at the right time, so too a potential manager candidate came to Stoothoff's attention near the hiring deadline. One day as Stoothoff was exercising and talking to a friend, that friend recommended the committee contact Jenny Drake for the manager position. Drake and her husband Richard had formerly owned and operated a downtown restaurant, and she had experience working for a nonprofit organization.
Stoothoff relates that Drake had "the perfect commitment, energy level, excitement and desire to make the ReStore succeed." Drake was hired in May 2004 and has worked as manager during the 10 years since. Anyone who knows her would say those attributes of 10 years ago are still present, only perhaps more so.
Drake says her greatest satisfaction in opening the ReStore was "knowing that the funds generated by the retail sales would put God's love into action to build more homes and serve more families in northern Beaufort County."
After two successful years of operating the ReStore on Paris Avenue, the decision was made by Habitat in 2005 to move to a new location where the Habitat office and ReStore would be side by side, and actually be owned by the local affiliate, with adequate parking for both. Suitable buildings were found on Parris Island Gateway- a restaurant that would become the office building and an auto parts store that would be turned into the next ReStore.
Again Stoothoff was involved in bringing the pieces together. The town of Port Royal was petitioned to annex the property that included the two buildings. "The town council had the third and final reading of the annexation plan the same day as we closed on the property," Stoothoff says.
Once again, much renovation of the buildings' space was necessary before they could be opened for their new uses. Just as two years before, scores of individual volunteers and donor businesses came through to prepare the ReStore building as retail space. From February until April 2006, concrete flooring was cleaned of grease, etched, painted, repainted and sealed. A local electrician volunteered to rewire all the store's outlets, fans and lights. Many home remodeling and decorating businesses assisted with the renovation through donations either of labor or materials, or both. The Habitat building crew, regular volunteers and family members of regulars, all pitched in to make the building suitable as a comfortable retail space.
On the day of the move, April 28, 65 Marine volunteers from Headquarters and Headquarters Squadron, MCAS Beaufort, arrived at noon and with precision, moved 6500 square feet of store inventory from one side of Port Royal to the other, finishing in less than three hours. A lunch was donated by two businesses for all persons involved in the move.
The next day, April 29, 2006, the ReStore opened at its new address of 612 Parris Island Gateway, and the official grand opening was celebrated July 1.
This summer of 2014 marks the LowCountry Habitat ReStore's 10th anniversary as a "store that builds houses." It has been quite a history, and continues every week with the store open 10-5, Thursday through Saturday.