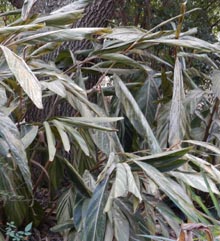 Just when I thought the freezing cold temperatures were the worst weather related calamity that could happen to our gardens I read about the 40 below wind chill in Chicago and I realized how fortunate we are to be here in Beaufort. Even with the unprecedented cold and ice and what appears to be a sea of dead looking plants outside, our camellia flowers continue to open and we get to look out our windows every day and see beauty, color and fresh new life. But, about that sea of dead looking plants . . .
Our established plants can generally handle a few freezing hours easily. What will happen after the extended freezes we experienced is still very much unknown. Normally, as cold weather approaches the cells of plants and trees, which are made up of water, go into some state of dormancy and much of that moisture returns to the roots, out of harm's way. The warm weather right before the freeze left our plants unprepared and moisture in the stems and leaves formed ice crystals which, depending on the hardiness of the plant, burst when they froze. I have been guilty of pushing the zone tolerance of marginally hardy plants. There were blooming bromeliads in the Live Oak that now hang limply; the state of my cordylines from Hawaii could only be described as mush, a not terribly scientific term. They had been thriving here for years; I was truly complacent to think they would survive the polar vortex.
The advice from Clemson is to not do any major pruning until later this month; you should see some new growth emerging by then. You want to wait because pruning stimulates new growth and on the chance that we might have more nasty weather, the tender new growth could be harmed by the cold. On our perennials the rationale for not cutting back too hard is that the dried foliage actually insulates and protects the crown of the plant from water and ice damage. That said however, this year is different. You still do not want to prune too hard but it is important that you do clean up the freeze damaged foliage. Rotting foliage encourages diseases and insects. Carefully remove all the dead matter without going into the live plant material.
I have been doing the "fingernail test" around my own garden. Carefully scrape a bit of bark off with your fingernail; you don't have to go too deep, the green cambium layer is just under the surface. If you see green say a guarded Hallelujah, the plant is likely alive but it is not always an indication of long term health. Our citrus trees are a good example; the trunks pass the fingernail test but all my trees, tangerines, grapefruit and lemons, have lost their leaves. Naked trees! Most plants need leaves for photosynthesis, the process where they take in light and convert it to energy. At this point we do not know if there is enough stored energy in the trees to carry them through. Unfortunately we can't just toss fertilizer on the problem. Just as you wouldn't feed a sick person a full meal, we have to use common sense in the garden also. A light dusting of an appropriate fertilizer or a bit of compost, chicken soup for the soil that will release its nutrients slowly, should be enough until we know more about how extensive the damage is.
On my morning walkabout I was encouraged by the new growth just two days of mild temperatures and a bit of rain produced. Amaryllis leaves appeared overnight, there are shoots on the roses and I even saw two tiny new leaves on a hydrangea. Of course there was also a fresh green patch of Florida Betony, a most pernicious weed. Drat, the cold did not deter that at all; but at least we can take heart, it is a good indication that Spring is on the way.
Valentine's Day is upon us and traditionally that is the day you prune and fertilize your roses. Clemson's fact sheet has easy to follow directions. http://www.clemson.edu/extension/hgic/plants/landscape/flowers/hgic1173.html
There are two interesting garden programs being held in the Charleston area in the coming weeks: On February 22, Fruitmania will be held at Cypress Gardens in Moncks Corner. This fruit growing garden school will answer all your questions on growing fruit in our climate. There will be lectures, giveaways and fruit trees for sale. You can contact Cypress Gardens at 843 553-0515 for information or checkout lowcountryfruit.blogspot.com. On March 22, the Carolina Yard Gardening School, an all day program of outstanding speakers and classes, will be held at the Fairgrounds in Ladson, SC. Call 843-722-5940 for information. Closer to home, mark your calendars for May 17, the Lowcountry Master Gardeners award winning Lunch and Learn classes will return to the Farmers Market in Port Royal.