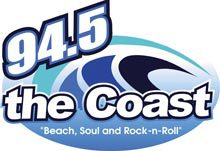 94.5 The Coast serves up Beach, Soul and Rock-n-Roll…
Joel Garrett and his radio station, 94.5 The Coast, have joined the Habersham Marketplace and its village of retail, health and wellness services and restaurants. Boasting a "Beach, Soul and Rock-n-Roll" format, 94.5 The Coast is Beaufort's only locally owned and located station focusing on music of the 60s and 70s, as well as Motown, Soul and Shag/Beach.
With goals to play a large role in and be a powerful voice for the community, 94.5 The Coast will offer live remotes and participate in many of Beaufort's prominent community events. Garrettt aims to incorporate interviews and special segments with the area's top business leaders as well as hometown heroes and special characters.
"I have always loved Beaufort and moved here to be a part of what I know is an incredibly unique community," Garrett said. "I plan to showcase people of different backgrounds and experiences and really try to highlight that uniqueness that only Beaufort has in the best possible ways. Whether it's the Homecoming Queen, a star quarterback or the guy down the street everyone knows and loves…we're interested in getting to know them."
Garrett was voted Top 30 Under 30 in the World in 2011 (top 30 radio personalities under 30 years of age). He is responsible for launching regional station 104.9 The Surf in 2010. Karl Wells, retired USAF and resident of Beaufort, serves as General Manager, and Beaufortonian Brandy Yates is an on-air radio personality who has worked in broadcasting for more than 15 years. She will be the host of "The Breakfast Club with Brandy"
6 -10 a.m. weekdays.
Located at 25 B Market St. in the Habersham Marketplace, 94.5 The Coast has an "open door" policy and hopes residents in its surrounding Habersham neighborhood and Beaufort community at large will stop in and share their local news, ideas and events. For more information on the station, call (843) 466-1122. The Request Line is (843) 466-2945.