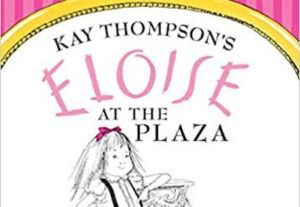 "Eloise is a little girl who lives in the Park Plaza Hotel in New York. She is not pretty but she is already a person.  She is interested in people when they are not boring.  If you take her home with you, you will always be glad you did it." – Kay Thompson, Eloise (Simon and Schuster, 1955)
My lovely friend Eloise gave me this book to read recently while she was cooking another gourmet dinner for us in her apartment in Cambridge. The little book is absolutely charming and it took me back to the mid 1950s when I was this girl's age. I read it while occasionally glancing out the 17th floor living room window in Eloise's building, wondering what all the people down the roads were doing and thinking about.
Revisiting the 1950s, albeit through the eyes of a fictional girl in a near magical place, it was easy to envision similar voyages through time. Sometimes Eloise and I like to listen to music from the 1930s. Glenn Miller is a particular favorite, and the ancient black and white films of young couples dancing to songs like Moonlight Serenade, stars in their young eyes, always seem to bring tears to mine. And that got me thinking.
What if Mr. Miller's incredible orchestra were to time travel to the present?  And listen to some of the best music of our day. Maybe whisk them to a Beyoncé concert, or maybe Yo-Yo Ma. How about the Rolling Stones; yeah that's it! Lady Gaga, or … oh who knows. What would Miller's boys think about it, what would they say to each other, what would they tell this old journalist and storywriter about their experience?
What if I could take them to my favorite tavern afterwards and buy them all drinks so they could really let loose before playing, before their fellow customers of course. I try to imagine the conversation, Miller's band not quite understanding why they can't smoke cigarettes indoors like they always used to back in the day. Marveling at the oddball outfits on some of the women, who often appear to me like ladies of the night with their skin tight revealing outfits and crazy quilt colored hair.
Flipping the coin over, how about we transport some of today's millennials (forget about 20-somethings) back into a smoky club in the 1930s for a Billie Holiday (Lady Day) show. Whatcha think about them apples, youngsters! No one sings like she did today, absolutely no one. Order something to drink if you like and get ready for our next stop which may finish blowing you away.
Millennials in tow, we take a New York subway to another smoky club not far away. On the venue is the incomparable Duke Ellington orchestra. Our next stop is going to be with the one and only Cab Calloway, who I met in 1980 on a TV show we did in Cleveland. I'm trying to imagine the fun of introducing him to the kids and then to me, over 40 years before we met in "real life."
By now my young travel mates are probably exhausted and ready to go back to the future. At this point I'm probably a little pooped myself, my mind spinning with the happiest of thoughts. Maybe this was an educational experience of a lifetime for everyone involved. Maybe it will get all of us to think outside the box a little bit more about history, culture, and the true joys of human contact floating on a bed of incredible music.
It's difficult to think of an encore at this point but I have one idea. I'd like to grab Miller's band again, and Callaways, and Ellington's, and zip away with them on our magic carpet to Royal Albert Hall in London, the year 2005. Performing is the incredible mega act from the 1960's, Cream.  That's right, Eric Clapton, Jack Bruce, and Ginger Baker still in their musical prime in their 60's if not better than they ever were.
Yeah, could do the trick, but just thinking about it makes me sooo tired. I'm old now and I need a nap. But most assuredly it will be a very happy nap.