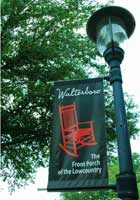 The Backyard Tourist gets more than he bargained for in Walterboro, "The Front Porch of the Lowcountry."
Searching for the Good Stuff
It's been said that a Tourist doesn't know where he's been and a Traveler doesn't know where he's going. I've always been more traveler than tourist, an advocate of throwing the bare essentials in the car and wandering out into the undiscovered country. This is sort of the central idea behind The Backyard Tourist – to get out and discover the good stuff around our Lowcountry hub of Beaufort, to find things and places that appeal to visitors and locals alike, perhaps a bit more Tourist than Traveler. So when I mentioned to a friend that I had yet to visit Walterboro since making my way back to the Lowcountry, she insisted. "I'll make some calls." She did (more on that later) and I took a pleasant 45-minute drive to The Front Porch of the Lowcountry to find out exactly why so many people where doing the same. What I discovered is that it would take more than a day to appreciate all that the town has to offer.
Stop Where the Parking is Free (and Plentiful)
"We have a very, very unique alignment that doesn't happen in small towns very often," explains David Evans, "where you have a group of merchants, a group of citizens and a group of city officials who all have the same thought at the same time." I'm deep into a roundtable lunch and discussion with a group of Walterboro's movers and shakers. We've gathered in the main dining room of The Blarney Stone, an unlikely Irish Pub in the heart of the downtown shopping district where Chef Bryan Arrington offers up five variations on the Lowcountry classic, Shrimp and Grits. Mine is a lot like the conversation: lively, unpretentious, authentic and pretty damned spicy. Evans owns Bachelor Hill Antiques right across the street, one of more than a dozen such shops within a few blocks. A collection of bright red rocking chairs sit outside the door. He's talking about the careful and collaborative way in which this historic crossroads town is quickly becoming a destination. "This is something you don't see in other small towns," he says. "And we go to a lot of small towns."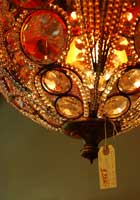 "We have art, antiques, history, and nature," says Gale Doggette. Doggette's the Executive Director of the South Carolina Artisans Center, a campus of historic buildings just around the corner from the shops, galleries and restaurants along Washington Street. The SCAC also features more than 2500 square feet of gallery space with the juried work of about 270 state artists. "I can't think of a medium that isn't represented," she says. "And there's something for every budget." It is a stunning collection. Here you can spend $8 for one of Irving Schulman's intricately carved fish or drop thirteen grand on a wooden canoe meticulously handcrafted by Phillip Green.
But there is much more to Walterboro than just the shops. "We have two historic districts inside the city limits," says Hank Amundson, the city's Economic Development Coordinator. "You can kill an afternoon just walking around."
Barely through with lunch, I'm already planning out what to do on the next visit.
To Be Continued…
For more information visit these websites and read part one of our spotlight on Walterboro in the September 1st issue of Lowcountry Weekly.