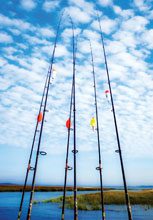 The Backyard Tourist Hooks Up With Cast Away Charters
Story and Photos by Mark Shaffer
"There it is!" shouts Captain Tim. After 30 minutes of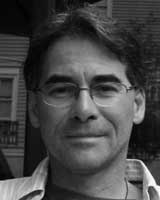 fishing I'm pretty sure he can sense the fish before it hits the bait. That's been the trend, anyway. Before the words are out of his mouth the tip of Susan's fishing rod snaps down.
            "Fish on!"
            The early November morning is cool and the air is sweet with the scent of marsh grass and oysters waiting for the incoming tide. A soft breeze barely ripples the surface leaving a near perfect mirror to reflect the lipstick smear of sunrise. We've been fishing the mouth of a tidal creek in Port Royal Sound since just before sun up and the Speckled Trout are running.
THE CAST AWAYS

"I love my office."
            Captain Tim Deckard of Cast Away Charters sips coffee and shares a quiet moment at the console of his 24-foot Shallow Sport. Up front his partner and protégé, Captain Joe Marshall, keeps a close eye on Susan, offering tips on technique as she works the fish to the boat.
            Back in the day Tim was literally on his way to becoming a chef when the pull of the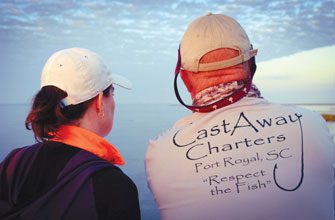 sea proved too much. "I was going to New York with a friend," he says. In the end he couldn't see trading in the open water for a hot kitchen and a lot of pressure. He and his wife Mare (known to some as Mrs. Capt. Tim) have run the charter business for over a decade. Captain Joe's recently come aboard to expand the operation. The three became close while the former Drill Instructor was a neighbor stationed at Parris Island. When Joe decided to retire from the Marine Corps after nearly 20 years and five combat tours, the pieces simply fell into place.
            "I just wanted to go fishing," says Joe. "Look around. It doesn't get any better than this and I couldn't be luckier to do what I do, thanks to Mare and Tim."
            He watches as Tim takes a turn working with Susan on her casting.
            "Watch him. He's the master," Joe laughs. "He's like Yoda, man."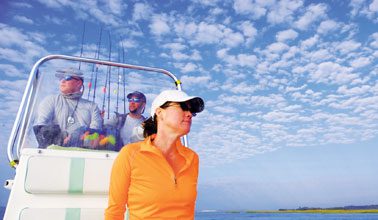 The two have been in constant orbit around her all morning conducting a master class in specialized inshore fishing. My wife – a keen student and quick study – is already a better angler under their careful tutelage.
            "When we started this we knew we wanted to make it a personal experience," says Mare Deckard. Mare takes care of the land-based aspects of the business. When you book a trip with Cast Away chances are you'll talk to Mare and get a Christmas card when the holidays roll around, as well. We're sitting on the Deckard's lamp-lit, storybook porch enjoying the last of a nice chardonnay following a meal of the day's catch prepared by Capt. Tim. This is where the chef's training pays off as part of Cast Away's Ultimate Fishing Experience – a morning on the water with the Captains followed by an evening under the stars dining on your catch.
            The Cast Away philosophy is all about building relationships and encouraging clients to come back again and again and again. "We want to talk to people and find out why they're in town, how many kids they have and what we can do to make their trip special and unique," she says.
            Cast Away offers an angling experience for just about anyone who ever thought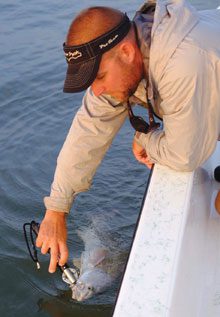 about catching a fish. And because of our mild climate and the unique environment of Port Royal Sound, they fish all year-round.
            Back on the boat Susan and Joe prepare to cast off the bow in tandem.
            "I wish they'd get a double hook up," says Tim.
            The words still hang in the air as Susan's rod snaps back. A split second later Capt. Joe also hooks into a fish and the two lock into a side-by-side battle on the bow of the boat.
            "Rod up," Joe reminds Susan. She adjusts her stance and seconds later boats her fish, a large shimmering speckled trout.
            We've been landing trout like mad from the first cast but it's plain to see that what's on the end of Joe's line is no trout.
            "Redfish," he begins in cadence, "big redfish coming to the boat."
            Tim slips the net over the side and muscles the fish into the boat. He is indeed a beauty. Well over the size limit at around 20 pounds, he goes right back in the water after a photo-op.
            "Man, that's a big trout!" says Capt. Joe admiring Susan's catch. He's seen enough to know and it is a very nice fish. But for a fleeting moment the expression on her face is a dead giveaway as Joe carefully hands over the Red Drum and takes the Trout. The rising sun reflects off the fish scales in hues of pink and gold. Magic hour.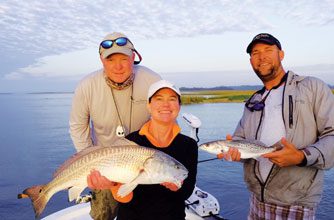 "Be sure to send this straight to your brothers," I say. She smiles.
            As all of us who fish eventually come to understand, a little envy is a major motivator and the root of many a fish tale. It may be a sin to covet, but I'm betting even the Disciples – some of whom were fishermen – knew what it was to envy another man's catch. There's always a bigger fish out there.
"Last year I went fishing with Salvador Dali. He was using a dotted line. He caught every other fish." –Steven Wright, comedian
            The great Oscar winning actor and decorated Marine, Lee Marvin, once said, "I only make movies to finance my fishing." Ernest Hemingway famously wrote to bankroll his beloved fishing boat Pilar, and in turn his fishing experiences inspired some of his best work. When I was young I spent every cent and spare minute chasing anything with gills
and fins. I was a lucky kid in that regard. I remember my grandfather first teaching me to fish. The lessons (not enough) involved a great deal of patience – not something for which small boys are known. Much later I realized that while it may take patience to catch a fish, fishing is not about patience. It's not even always about fish. The fishing can be great even if the catching leaves something to be desired. The Cast Away motto is "Respect the fish" and the Captains encourage catch and release to help maintain a healthy fishery. Out of dozens of fish boated today, three go home for supper.
            As the tide moves in, the fishing slows. It is the cycle of the Sound. We try a couple of spots for redfish before heading in. Near Chowan Creek we pass a bald eagle stoically perched on a weather beaten channel marker. Captain Tim slows down and maneuvers the boat so that the sun is behind me for a better chance at a photo.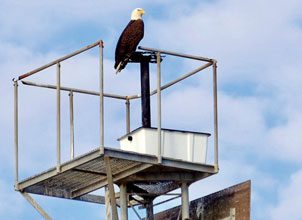 "Look at him," says Joe. "He's doing exactly what we're doing."
            The bird is magnificent – a perfect specimen of a large, well-fed raptor in its prime.
            "He's fishing, too," says Tim. "Today we're all just fishing."
HOOK UP
With Captain Tim Deckard and Captain Joe Marshall GySgt USMC (Retired), USCG Licensed Master Captains. Check out year-round fishing packages, photos and videos online @ www.beaufortcastawaycharter.com
843-322-1043 (office)
843-321-1768 (cell)