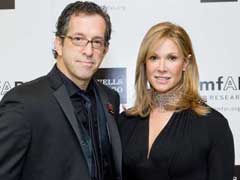 When she's not wearing her filmmaker's hat, Maria Cuomo-Cole serves as the Executive Chairman of HELP USA, one of the nation's leading non-profits for the homeless. She is the daughter of former New York governor Mario Cuomo and the wife of fashion designer Kenneth Cole. And she's coming to Beaufort!
Maria gave us this web-exclusive interview, via email, from the Sundance Film Festival, where she was debuting her BIFF-bound documentary Living for 32, the inspirational story of Virginia Tech massacre survivor Colin Goddard.

What inspired you to make Living for 32?
As an advocate, I have always believed that personal stories are the most effective means to communicate universal truths about humanity; truths which break down complex arguments surrounding controversial topics. In my experience serving as Executive Chairman for HELP USA, one of the leading nonprofits in the country serving homeless and at-risk populations, I have presented numerous intimate first-person stories of hardship and perseverance on film, video, and in print, which have been broadcast and published in a variety of media.
I had the privilege to meet gun violence survivor Colin Goddard through my work with the Brady Campaign to Prevent Gun Violence and the Million Mom March, where I have served as Director since 2005. The first time I heard Colin share his chilling account of the 11 minutes of terror he endured when one of his fellow Virginia Tech students took the lives of 32 classmates and teachers, I felt compelled to help him communicate the almost unfathomable experience. Colin is a human face within the complex debate on gun laws and Living for 32 is Colin's story.
I'm told Living for 32 started out as a PSA?
Yes! The project began when Colin courageously agreed to share his story for a public service announcement. We started filming what was originally intended to be a one minute PSA but, as we started listening to the almost surreal course of events that transpired on that April morning in 2007, one minute became four minutes and four minutes became six.  Already the project was becoming too long for great success as a PSA in the You Tube age, and Colin's story demanded more time and attention. Living for 32 was a surprise to all of us, but developed organically from the need to share Colin's unfortunate experience and his inspiring efforts. Now, Living for 32 is a 40 minute short film that is being screened on college campuses across the country and there's still much that needs to be told.
How long did the film take to produce, and how involved were you in the hands-on making of it?
Living for 32 is a labor of love that began as an advocacy public service announcement and developed into a year-long filming and editing process. I heard Colin speak during the summer of 2009 and began filming him two weeks later. I was extremely hands on with the filming process, articulating the vision for the story, setting up scenes, organizing shoots, interviewing subjects and editing throughout. We finished shooting in August 2010 and submitted the film to the Academy of Motion Pictures and Applied Sciences by the end of that month. The festival screenings are just the beginning for Living for 32. We recently launched a college tour, which will take the film to schools and independent theaters across the country through 2012.
The recent tragedy in Phoenix lends new relevance to your documentary, focusing the nation's attention, once again, on mental health care and gun control laws. Do you feel like Living for 32 may wield some extra influence, now, in terms of getting some real reform accomplished in Washington, as a result of its uncanny timing?
Sadly, almost four years after the shootings at Virgina Tech, Colin was forced to ask: "Why has so little changed?" We watched the terrifying events in Tucson unfold, when mentally-ill Jared Loughner killed six innocent people, including 9 year-old Christina Taylor Green, and wounded 13 with a Glock 19 semi-automatic – the same weapon that Cho used to shoot Colin in 2007. There are grievous similarities between Colin's experience and the horrific events that took place in Tucson. Recent tragic events only create more unnecessary evidence that stricter gun laws are needed. I have always believed that the most effective policy change arises from constituent and community influence. In creating Living for 32, my intention was to present Colin's story to as many people as possible, with the hope of mobilizing the American people to demand action from their elected officials.
What is Colin Goddard doing now? Is he a full-time activist?
Colin Goddard was shot by Seung-Hui Cho four times at Virginia Tech but, rather than letting the experience of April 16th, 2007 become the defining moment of his life, his chose to pursue courageous actions and inspiring work, which speaks more loudly about his character than the single tragic incident. Colin currently serves as the Assistant Director of Victims and Youth Advocacy and Federal Legislation for the Brady Campaign to Prevent Gun Violence. He now uses his experience as a survivor to educate Americans about the risks, dangers, and responsibilities of gun ownership. Not only is he an advocate in the gun violence prevention movement, Colin also promotes the improvement of mental health and college campus response policies. In Colin's own words: "We live for the 32 murdered on April 16th, 2007 at Virginia Tech and for the 32 people who are murdered with guns every day in America."
Maria Cuomo-Cole with be in Beaufort for BIFF, along with Colin Goddard and director Kevin Breslin. Read our conversation with Breslin here.