A couple of enlightened journalists get their Southern on, Knievel style.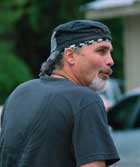 Every once in a while a Southern man needs to get in touch with his Inner Redneck: eat some barbecue, drink a Pabst Blue Ribbon, listen to "Sweet Home Alabama," howl at the moon.
Mark Shaffer of Lowcountry Weekly and Richard Brooks of Bluffton Today, both of the Enlightened Redneck persuasion, eschew the racist, violent and misogynistic aspects of their heritage.
Nevertheless, there is something to be found in the motorsports arena that appeals to the Southern-born male on a visceral level – and it's not just the head-turning appeal of big hair, halter top, cutoff jeans and stiletto heels peculiar to the culture.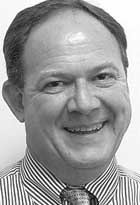 Thus they found themselves on a July 3 road trip with a dozen or so like-minded Beaufort boys and girls (average age: 60ish) barreling through that cultural wasteland known as south Georgia.
Also on board were Wilson Kirven (the chauffeur), Whitey Poertner (the travel guide), Daniel "Duby" Dubatowka, Stephen Dubatowka, Pam O'Bryan, Kevin Lewos, Carolyn Lewis, Michael "Stretch" Stavac, Alan Kirby, Jesse Foley and Mary Arne.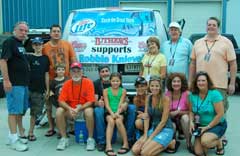 Their destination was greater metropolitan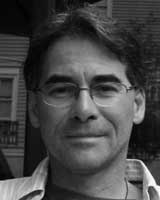 Valdosta. Their purpose was to watch motorcycle daredevil and local celebrity "Kaptain" Robbie Knievel jump over stuff.
Knievel, as the son of Evel Knievel, comes by this craziness naturally, or genetically anyway, and bills himself as "The World's Greatest Daredevil."
Knievel has made more than 250 jumps, according to his website, www.knieveltour.com.
Like his Dad, he jumps over the usual, mundane daredevil objects like buses, trucks, military vehicles, the Caesar's Palace fountain and the Grand Canyon.
But he's also turned in some oddities:
– A barge-to-barge jump in March 2006 in Jacksonville, Fla.
– The Batmobile, a 1959 Harley Davidson and four huge flame throwers in July 2006 in Butte, Mon.
– $4.8 billion in fake money (the amount of interest paid to customers of ING Direct) in June 2007 in Wilmington, Del.
– And four airplanes and a helicopter in August 2008 in Heyward, Wisc.
Redneck Heart of Darkness
"Kaptain" Robbie Knievel sits perched on a platform at the top of a 30-foot-tall down ramp, waving to the crowd at Wild Adventures Theme Park in Valdosta, Ga.
On his Honda CR-500 motorcycle, he glides down the incline then accelerates on a flat stretch and slows to a stop at the top of his would-be jump ramp. He looks across a man-made lake to the landing ramp. He turns and coasts back down, the second of two false starts.
A preadolescent girl with a Playboy bunny tattoo turns to her mother and asks, a little peevishly, "Mama, is he scared?"
It's an edgy crowd, the kind that either wants to see some excitement or some broken bones and doesn't really care which.
It's a NASCAR crowd. Not the skybox NASCAR crowd or even the grandstand NASCAR crowd. It's the fingers-though-the-chainlink-fence, Rebel-yell NASCAR crowd that cheers when an enemy driver hits the wall.
Redneck heart
Valdosta, Ga., is about as far south as you can get and not be in Florida. And getting there is sort of a journey into the redneck heart of darkness.
There's no direct interstate highway route, so the July 3 trip from Beaufort requires some backwater navigation.
Robbie Knievel lives on St. Helena Island and the Valdosta jump is about as close to home as his tour schedule comes.
So 13 of his Beaufort friends from Luther's Rare and Well Done bar and grill are packed into a van. It is chauffeured by Wilson Kirven of The Point Limousine service. And we are cruising south with VIP tickets.
Part of the trip includes a stretch of U.S. 41, on which Dickey Betts claims to have been born in the back seat of a Greyhound bus. Alas, "Ramblin Man" is not on the radio playlist this day, but "Gimme Three Steps" helps set the mood.
"It's not a road trip until you hear some Lynyrd Skynyrd," says photographer Mark Shaffer.
To pass the time on a 5-hour ride, the Beaufort crew makes a list of things in Georgia that Robbie Knievel could jump instead of an artificial lake:
• Innumerable corn/soybean fields;
• A mountain of Pabst Blue Ribbon cans;
• Gov. Sonny Perdue's ego;
• Long State Prison (a tiny, modernly austere, razor-wire-wrapped, concrete block building near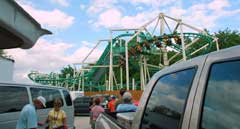 Liberty);
• Or the Ludowici Plaza (a paragon of strip development underachievement in the town of the same name).
"This is a sad little town," Alan Kirby says of Ludowici. "I don't even live here and I'm depressed."
Taylor Repo, hard by the Satilla River, is the most active place in the vicinity. "Car repos must be the only growth industry in south Georgia," Shaffer says.
Leaving Ludowici, the scenery improves with a long stretch of pine barrens interspersed with the occasional family farm.
Farmhouse architecture is probably a uniquely American genre, largely unappreciated in south Georgia, but the pecan groves are well-loved and well-tended.
There's also a ginormous, foul-smelling paper mill — the only sign of gainful employment for hundreds of miles.
The last town before Valdosta is Homerville. Several in the van spot the "welcome to" sign and simultaneously yell, "Doh!"
Also, "If you're going on an Odyssey, you've got to stop in Homerville," Shaffer says, looking in vain for an Iliad Cafe.
There are some security issues at Wild Adventures park, but eventually Kirby finds an unlocked gate and the van parks next to Knievel's recreational vehicle. Grilling paraphernalia is unpacked and anticipation for the jump, scheduled for 7 p.m., builds.
Father's legacy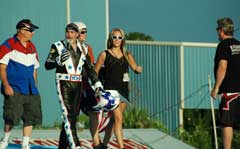 Robbie Knievel, indeed, is not scared. In fact, before the jump, he looks a little bored. Or maybe that's the relaxed façade of a man who lives a dangerous life.
He is, after all, the son of the late Evel Knievel, the most celebrated motorcycle-jumping daredevil ever.
The jump in Valdosta is billed at about 200 feet, from a narrow, steel-girder-supported ramp built partly over the artificial lake to a broader plywood landing area floating on barges near the other side.
While that's nothing to scoff at, it's short of Robbie Knievel's world record jump of more than 225 feet.
These pedestrian jumps are his bread and butter. What he's really excited about is eclipsing his father's legacy.
He talks about his still-in-negotiation plans to jump 16 double-decker buses at Wembley Stadium in London.
The feat would top both the current world record for buses (15 by Bubba Blackwell) and his father's failed Wembley Stadium jump in 1975 (Evel Knievel crashed on the roof of the 13th bus, was badly injured, but walked away).
Except for Wembley and the Snake River Canyon, Robbie Knievel has completed every jump his father ever attempted, successfully or otherwise.
After Wembley, the Snake River Canyon is next on Robbie Knievel's bucket list.
Jumping the lake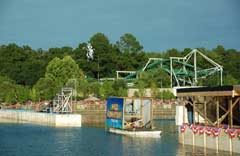 In the middle of the crowd at Wild Adventures, a paramedic crew from Lowndes County Fire and Rescue has set up a makeshift first aid and triage station at the foot of the landing ramp.
Bobby Loebach, a wetsuit-clad rescue diver, dons a SCUBA tank and mask and mounts a personal watercraft.
"The chief told us to be ready for anything," says Jeff Gioia, also of the Lowndes County rescue team.
It's all part of the drama building up to Knievel's jump.
His daughter, Chelsea, sings the national anthem well, with a distinctive Southern drawl. Knievel takes a turn around the lake in a small boat, then runs up the ramp in his black-and-white leather jump suit spangled with blue stars. He windmills the matching helmet over his head and the crowd cheers. This
is when he looks most alive, engaged. This is what he lives for.
Clutching a microphone, Knievel mentions his father.
"I had some good times with him before he died…. This might be my last jump before Wembley…. I'm going to try to jump 16 double-decker buses…. I'm going to try to do the Snake River…. And I'm going to do it for my family," he tells the crowd.
He also dedicates his jump to military personnel and "my friends from Beaufort, South Carolina." More cheers from the bus passengers and other locals who have traveled separately for the Knievel experience.
After a couple of practice runs, Knievel zips down the runway and easily clears the lake. He touches down on the landing platform, hard but under control, and brakes to a halt well short of the stacked hay bales at the Giraffe and Elephant Overlook section of Wild Adventures.
He makes a U-turn between the cages of an African patas monkey (erythrocebus patas) and a serval cat (felis serval). He pops up on his rear wheel to climb the landing ramp and accept a standing ovation, arms raised over his head.
The whole money shot, after all the preliminaries, takes about 45 seconds.
Loebach peels off the wet suit while Gioia starts packing up the bandages and splints. On this day, all is well in Robbie Knievel's world and there's no need for Lowndes County Fire and Rescue.
And it's a long, dark trip back to Beaufort.
Richard Brooks is a reporter for Bluffton Today, where this article first appeared. Mark Shaffer is Lowcountry Weekly's Backyard Tourist.