A Bluffton father/inventor has built an innovative brand rooted in fatherhood.
When Stephen "Beav" Brodie and his wife, Brandy, found out they were going to have a second child, another girl, Brodie could only think of one thing.
"I thought, 'Man, I know what this means already,'" he said, laughing and shaking his head like a man condemned to wear a dress in public. "It means I'm going to be carrying her diaper bag."
Like a lot of good dads, Brodie was used to hauling around baby gear.
But the idea of carrying another pink or purple puffy bag didn't sit well with Brodie, a self-described "tactical gear and gun guy" who likes tattoos, working on cars and having the right tool for the job.
So Brodie turned to the Internet in hopes of finding a cool alternative.
"But there was just nothing. Nothing existed," he said.
In the hunt for something more in line with his own style, Brodie discovered diaper bags seemed to come in colors that matched the baby's gender.
"But the diaper bag is more of an accessory to the person carrying it," he said. "This is mom and dad's tool to do the job."
That's when he hit upon an idea that would soon change his life. Why not make his own diaper bag?
With a background in automotive work and trim and upholstery – he even has a degree from WyoTech, an auto technician vocational school – the idea really wasn't all that far fetched.
The Hilton Head native was used to working on cars, both inside and out, and had mastered skills that demanded an eye for fine detail. He'd even made a name for himself in the world of custom auto bodywork, having won numerous awards for classic car renovations.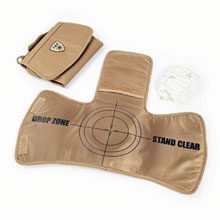 So Brodie sat down to make his own bag and soon was making bags for other dads and friends with a similar aesthetic.
That's when it occurred to him he could be onto something. There certainly wasn't anything like it on the market at the time – but there could be, he thought.
"I think everyone thought I was nuts," he said laughing. "I've always had crazy ideas or have always done things way out in left field."
Extremely creative and highly driven, Brodie also admits he has the propensity to kind of go "crazy about something."
"I'll go 110% into something that I'm passionate about, and no one is going to stop me from trying to be the best at whatever I'm trying to do," he said.
As a child, he tended to migrated toward "action sports" such as skateboarding or biking
or activities that weren't the typical after-school pursuit. As a result of an intensive focus on one or two things, Brodie sometimes forgot about schoolwork.
"I was a terrible student," he said laughing. "I didn't care about school whatsoever."
But his parents were supportive of their son's interests.
"I've got the most supportive parents I could ever ask for," he said. "I've had the craziest ideas and they've always supported them no questions asked."
Before creating Tactical Baby, Brodie ran his own auto body and custom car business, something he did for 15 years after he earned his business degree from WyoTech. But at the height of his career he suddenly decided he was done.
"And everyone was like, 'What?'" Brodie said laughing.
But that restlessness energy had once again set in and Brodie was soon on to a new challenge.
Within a year after making his own bag, Brodie had found a business partner, Alexander Kristoff, and had begun mass producing the bags. By 2016, he had left the auto body business altogether to focus fulltime on growing Tactical Baby.
Today, the Bluffton-based, online retailer sells a range of products from various sizes and styles of diaper bags to baby carriers, to "Tactical Changing Pads" that come equip with a drop zone and cheeky stand clear warning printed on them.
It's enough to make any cool dad (or mom) smile.
What's more, the business has its own in-house media agency and production company. So if he or one of his employees – many of whom have young children themselves – comes up with an idea, they can move on it quickly and fairly easily, Brodie said.
"By making fun and engaging content, but then also trying to be educational at the same time, and also including parenting content and baby related stuff that's coming from a bunch of tattoo guys, it's very un-ordinary," he said laughing.
They've also expanded their brand with videos, podcasts and by "storming social media."
"We have interesting conversations with interesting people who are also parents," he said.
It's a formula that seems to be working for them and has even landed him with some big time press coverage.
From the Wall Street Journal to the New York Times and CBS News, national (and local) news can't get enough of the story and the company who have not only embraced fatherhood but have reshaped it to be their very own.
Asked if the company has taken off, Brodie said it has made "slow and steady progress" but then after another beat he seemed to reconsider that response.
"It's hard for me to process because I'm so close to it," he said. "But when I look back at only just a few years ago at where we were and where we are today, yeah I'd say it's taken off."
What's even more exciting to him, is the impact their products are having on new fathers and the family dynamic. Giving dads the "right tools for the job" or something that makes them feel critical to the child rearing process has been interesting to watch, he said.
"You know how guys are. If you give them the right tool, they're like, 'I got this. Let me do it,'" he said. "What we're doing is getting them involved from Day One with a tool for the job."
The emails and testimonials they've received from their customers have been nothing short of amazing to him – from wives who've said their husbands have completely changed the way they feel about a new baby with the purchase of one of their diaper bags, to dads who love the product for its practicality."
One of their taglines is, after all, 'Tactical is Practical.'
"It's like, 'Holy smokes, we're really making an impact," Brodie said becoming even more animated as he talks about the feedback from other dads. "Being able to get a bond with your child sooner because you're more involved, more active from Day One changing diapers or burping or whatever the case is, you are doing it with a different level of enthusiasm . . . and that's exciting."
Along with his company, Brodie's own family is growing. He and his wife are expecting their third child – another daughter.
"I'm surrounded by girls," he said with a grin.
And he's excited about coming up with new ideas that a new baby might spawn.
The sky is truly the limit, he said, when asked about the future of the company and what he might think of next.
"The baby industry is an $8 billion industry," he said. "And we've hardly taken a piece of that pie. Rather, we've kind of carved out our own section of it and expanded that market into more of a dad market so there's just no telling. But yeah, it's crazy to think about where we are and we're just getting started."
Check it Out!
If you're a new dad or would just like to check out Tactical Baby's products, give them a look at www.tacticalbabygear.com.