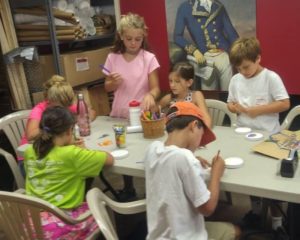 Historic Beaufort Foundation is offering a summer children's camp, Junior Building Detectives,   the week of July 11th – 15th from 9:30 a.m. to 12:30 p.m.
Open to children ages 8-12, this year's camp will enable participants to "solve the mysteries of built history" by learning about local architecture.
HBF believes that preservation is relevant to people of all ages and can be fun too! The summer camp, hosted in the historic John Mark Verdier House ca.1804, will teach campers the basics of historic architecture and preservation. Campers will learn how buildings change over time, the meaning behind architectural features, and the relevance of historic buildings to our community through hands-on activities, walks around Downtown Beaufort, arts-and-crafts projects, experiments in building science, and more. At the end of the program, campers will participate in creating a building and presenting their design to the class and parents/guardians.
Registration: Early registration is advisable as space is limited. The camp is $100 for HBF members and $125 for non-members. Registration may be completed by calling HBF at 843-379-3331 or going online to https://historicbeaufort.org. Registration paperwork must be submitted at least two weeks before the start of the program to ensure the child's spot.
For more information visit www.historicbeaufort.org