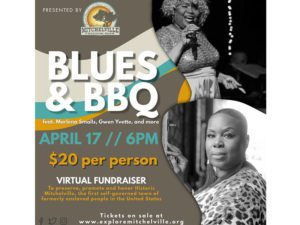 Historic Mitchelville Freedom Park will stream Blues and BBQ, their annual fundraiser. Proceeds from the annual event will go toward structures that will be added to their 24-acre property that are aligned with their comprehensive development plan. Blues and BBQ will be Saturday, April 17, 2021 from 6:00 PM – 8:00 PM for virtual ticket holders only. General admission tickets are $20 and can be purchased from exploremitchelville.org.
"Historic Mitchelville Freedom Park is moving forward in their planto develop their 24-acre site of modern-day Historic Mitchelville through interpretive mediums, architectural structures, pedestrian trails, and curated experiences that respect the site's origins.  Events like Blues and BBQ directly support that develop," says Ahmad Ward, Executive Director of Historic Mitchelville Freedom Park.
The Historic Mitchelville Freedom Park is a 501 (c) 3 non-profit organization whose mission is to replicate, preserve, and sustain an historically significant site and to educate the public about the sacrifice, resilience and perseverance of the freedmen of Mitchelville and to share the story of how these brave men and women planted strong and enduring familial roots for generations of future African-Americans. In 2021 Historic Mitchelville Freedom Park was selected to join the National Park Service – Reconstruction Era National Historic Network.