607 Bay is a boutique guest house with a twist.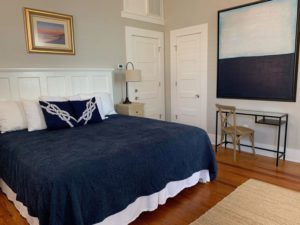 On the second floor of 607 Bay in Beaufort, there is a painting in one of the guest rooms that doesn't just draw you in, it grabs you by your visual senses in a strange, almost hypnotic way.
A trick of color and proportion perhaps, but the painting – its bottom half a deep navy, with an upper half in lighter blues and white – has the same effect as looking out at the bluest of oceans. You want to step inside that painting and float away.
In much the same way, the house has a similar effect on those visiting or just passing by.
"People just seem to know this house," said the home's co-owner Christopher Knox.
Several times a day, he finds people outside or across the street taking photos, something not all that unusual given the city's rich history when it comes to historical homes and properties.
A former tech entrepreneur, Knox and business partner, Michael Jacejko, purchased the property in 2018, after the house sat empty for nearly two decades.
For the next two and half years, Knox lovingly and painstakingly renovated the three-story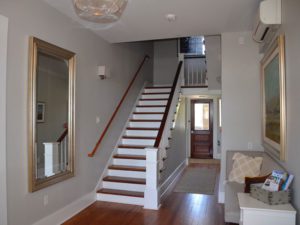 structure and turned it into a 10-room boutique inn featuring luxurious guest rooms.
But even before the two decided to buy the unusual property, it already had somewhat of a following online– not just for its majestic views of the river and Woods Memorial Bridge, or its close proximity to downtown shops and restaurants, but for its unique architectural style as well.
"This house has the most bizarre cult following of people," Knox said.
In fact, people from California to Maine to Texas to the East Coast have somehow found the somewhat mysterious house online and have been following its progress over the years, he said.
Built just after the Great Fire of 1907 wiped out a large section of downtown Beaufort, including the property's original home, the Thomas family, its occupants at the time, hired the French architect Viett to design and build their new house.
While not much is known about Viett, it is thought that he also was behind the construction of homes and structures in Charleston, including the city's historic Magnolia Cemetery.
Viett used a material similar to modern concrete, something Thomas, who spotted a Viett home on a trip to Charleston historians have said, found particularly appealing given its indestructible quality.
After that, the William Joseph Thomas House, as it became known, stood the test of time for another hundred-plus years.
Recent renovations headed by Beaufort's Mike Sutton, of Sutton Construction, included adding luxurious bathrooms to all of the rooms.
Third-floor attic space, thought to have been a ballroom originally, was framed out and turned into additional guest rooms. The home's roomy, concrete basement was also refinished and is currently being used for office space and storage.
What's more, all of the home's beautiful pine floors and staircases are original to the house.
Knox, who personally selected all of the interior's furnishings and design scheme, also incorporated many of the home's found objects, wood or other finds into the home's décor.
Old doors were refinished and re-used as headboards over beds for example, while reclaimed wood was turned into side tables. Old bank records and other documents found in the home's attic or between the walls were framed and turned into art.
"We tried to keep as many of the original pieces from the house," Knox said.
In addition, the work of local artists – including Knox's own, such as the mesmerizing blue painting in the "Thomas Room" – also adorn the house's walls.
Today, the home is enjoying a new lease on life as well as a new place in the limelight as one of the Lowcountry's newest reclaimed historic homes and inns. Since opening in January, 607 Bay, as it's now called, has done a steady business with guests booking two or three night stays at a time.
"We've had nothing but good feedback from everybody," said 607's Manager Kristin Bendle, adding that guests seem particularly drawn to the home's second-floor rooms and veranda. "People love to just sit out there and drink wine and watch the bridge."
If a group wants to rent several rooms on the second floor, its kitchenette with bar in the middle hall can be closed off and become a feature the whole party shares.
In addition, guests don't necessarily have to interact with the home's management to check in or out during their stay – a slightly different experience from the traditional bed and breakfast setup, both Bendle and Knox said.
That aspect seems to lend itself even further to the home's air of mystery and intrigue as guests feel like they're pulling up to their own private waterfront manse.
It's these unique features coupled with the home's sense of privacy or exclusivity that make it so intriguing to guests and appealing to a certain sector of travelers.
"This is a limited, unique-experience product," Knox said.
The home's rebirth and re-opening caused quite a stir with locals as well. Articles about the home's purchase and plans to convert it into an inn received "unparalleled traction" online when they were announced in 2018, Knox said– his first tip-off that something was happening.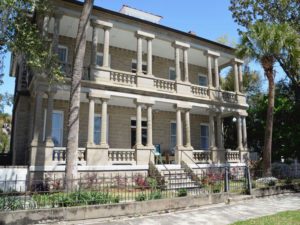 An open house that followed also caught the owners and management team by surprise. While only a hundred or so visitors were expected, more than 700 people turned out to get a glimpse inside the then mostly empty home which had not even been renovated yet.
Knox, who remains very hands-on around the property, still hasn't gotten used to the crowds or passersby who stop to take photos.
"It's the weirdest, most unnerving feeling," he said.
Still, he recognizes the home's popularity online and its ongoing place in Beaufort's architectural history, something he decided to ensure always remains intact when he decided to take the project on.
"It's not just a building," he said, adding that his and Bendle's roles as owners and managers of the property are important. "We're keepers of a piece of history."
For More Info
For more information on 607 Bay's guest rooms, rates and availability, visit www.607bay.com.