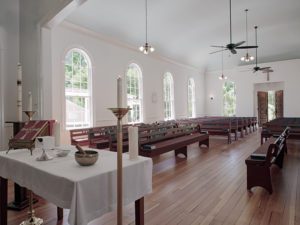 St. Mark's Episcopal Church, Port Royal, returned to its church building on May 23, 14 months after suspending in-person worship and following a major remodeling and expansion.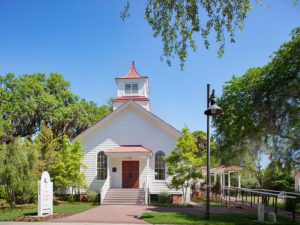 While the church was closed, the sanctuary was totally renovated and enlarged, while new rooms were added to the rear of the building.
Union Church, as the building is known to many, was constructed in 1878 and is listed on the National Register of Historic Sites.  Following its purchase in 2018 by St. Mark's and a successful capital campaign, Frederick & Frederick Architects were engaged as design architects and Beaufort Construction as contractor. Emphasis was placed on designing the renovation to complement the existing structure.
St. Mark's formed in 2003 as a "house church" with a small group meeting in the living room of The Reverend Roger Smith and his wife, Headley, now has more than 350 members. It is a member of the Episcopal Diocese of South Carolina and  the only Episcopal Church north of the Broad River.
Sunday services are at 9 AM and 11 AM.  More information is available via the church's website: www.stmarksc.org.