Street tacos are a new discovery for me. I'm admittedly old school. I grew up with hard shell corn tacos filled with seasoned ground beef, shredded iceberg lettuce, shredded cheddar cheese and chopped tomatoes. And, I still love those childhood tacos. Street tacos are a step up. Soft corn tortillas are loaded with steak, chicken, shrimp, chorizo, pork or fish and topped with diced onions, fresh cilantro, avocado slices and/or pico de gallo. They're wonderful! I'm so happy to share my new recipes with you. In addition to street tacos, I've stepped up my game a bit with grilled corn on the cob seasoned with fresh lime and parmesan cheese. Strawberry Jalapeno Salsa finishes the meal as a fresh and spicy substitute for traditional jarred salsa. Taco Tuesdays at your house will never be the same.
Mexican Street Tacos
Easy and authentic street tacos that you can make at home.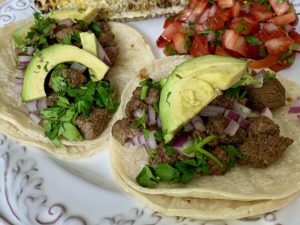 1½ pounds sirloin steak, cut into bite-sized pieces
2 tablespoons vegetable oil, divided
2 tablespoons soy sauce
2 tablespoons lime juice
3 cloves garlic, minced
2 teaspoons chili powder
1 teaspoon ground oregano
12 mini corn tortillas, warmed
½ cup diced red onion
½ cup chopped fresh cilantro leaves
1 avocado, sliced
Place steak in a large bowl or zip-top baggie. Add 1 tablespoon vegetable oil, soy sauce, lime juice, garlic, chili powder, and oregano. Toss to combine. Cover and refrigerate for at least 4 hours. Heat remaining 1 tablespoon vegetable oil in a large skillet over medium-high heat. Using a slotted spoon, add steak to the hot pan and stir often until steak has browned, or until desired doneness. Serve steak in tortillas topped with onion, cilantro and avocado slices. Serves 6.
Strawberry Jalapeno Salsa
Serve this delightful salsa on tacos, fish, chicken or just scoop it up with tortilla chips.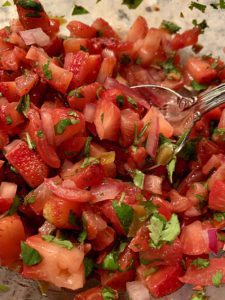 20 strawberries, hulled and sliced into a medium dice
¼ medium red onion, finely chopped
Handful of fresh cilantro, finely chopped
1 tablespoon jarred diced jalapenos, drained
Juice of 1 lime
Freshly ground black pepper
Place all ingredients in a bowl. Toss gently to coat. Chill until ready to serve. Serves 6.
Grilled Lime and Parmesan Corn
Grilled corn is a summer favorite. You're going to love it with fresh lime zest!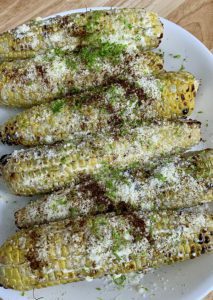 5 ears corn
¼ cup mayonnaise
¼ cup melted butter
Salt and pepper, to taste
½ cup grated parmesan cheese
Chili powder, to taste
Zest of 1 lime
Juice of 1 lime
Grill corn on a hot grill or grill pan until slightly charred. In a small bowl, mix mayonnaise with butter. Brush grilled corn with mixture. Season with salt and pepper. Sprinkle corn with parmesan cheese and chili powder. Garnish with lime zest. Squeeze fresh lime juice over corn before serving. Serves 5.
The writer owns Catering by Debbi Covington and is the author of three cookbooks, Celebrate Beaufort, Celebrate Everything! and Dining Under the Carolina Moon. For more great recipes and to view her cooking demonstrations, visit and subscribe to Debbi's YouTube channel. Debbi's website address is www.cateringbydebbicovington.com. She may be reached at 843-525-0350 or by email at dbc@cateringbydebbicovington.com.