By Joel Braun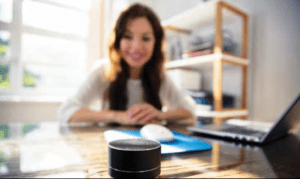 You don't have to be a tech guru to upgrade your house to a smart home. Whether you are looking to improve security, entertainment, or convenience, dabbling with connected devices can be easy and beneficial. Here are some smart amenities that can help you out at home.
Smart Thermostats
Tired of heating and cooling an empty house? Control the temperature of your home from anywhere with a smart thermostat. Smart thermostats can help save money and energy and allow for a customized user experience.
Home Security
Customize your smart home security with DIY options. Solutions from Nest, Ring, and LifeShield allow you to protect your home based on your unique needs. Plus, you can opt into a monitoring service if you'd prefer to let someone else keep an eye on your home.
Smart Lights & Plugs
Did you know that each smart light bulb can save homeowners an average of $11 per year? Smart light bulbs connect to your home's Wi-Fi and allow you to adjust brightness and color, as well as schedule when lighting is needed. The best part, smart lighting can be controlled from your mobile device anytime, anywhere. Considering the number of light bulbs used throughout your home, the savings can really add up. That's a BRIGHT IDEA we can all appreciate.
Entertainment & Convenience
Gone are the days of wiring bulky speaker systems throughout the house, create a seamless and wireless sound system with smart speakers like Alexa Echo, Google Nest Devices, Apple HomePod. Even the way we watch TV has changed. Instead of recording shows to watch later, now you can have an archive of endless TV and movie options at your fingertips. Turn any TV into a smart TV with streaming devices such as Apple TV, Google Chromecast, Roku Express 4k, Amazon Fire.
Don't be intimidated by smart home technology. Many modern connected devices are user friendly and designed to make your life easier and home more comfortable. If you are having trouble learning how to connect your home devices, reach out to your internet service provider for guidance.

Joel Braun is General Manager of Hargray.