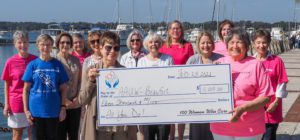 "Covid definitely dealt us a hard blow, but it didn't stop us," say the 100 Women Who Care, the Beaufort division of this national charity. In spite of the restrictions, they continued to raise over $10,000 every quarter of 2020, 2021, and now 2022.
These monies go directly to charities North of Broad, and 100% of the money is given. 100 Women Who Care, don't even have a bank account.  Any expenses incurred have been funded by one of the members.
At their quarterly meetings, three local charities make an appeal for that quarter's recipient; an immediate vote is taken and each woman writes a check for $100 to the winner.
"We've had to do this by email for the past two years," says Laura Riski, one of the coordinators. "We are delighted that we will be able to have our first in-person meeting at Beaufort's First Presbyterian Church in the Fellowship Hall of the Education Building, on the corner of North and Church Streets. It will be on April 12th, promptly at 5:15 pm. We allow only an hour for our meetings because we are all busy ladies. We would welcome those who are interested to attend."